Mangalam Alloys Limited IPO GMP, Review, Prices, Dates: The Rs 54.91 crore fixed pricing problem for Mangalam Alloys. The offering consists of a fresh 61.26 lakh share issuance totaling Rs 49.01 crores and a 7.38 lakh share offer for sale totaling Rs 5.90 crores.
The IPO price for Mangalam Alloys is Rs. 80 per share. The basic minimum application lot size is 1600 shares. Retail investors are required to make investments of at least 128,000. For HNI, two lots (3,200 shares) with a minimum investment of $260,000 are the required minimum lot size.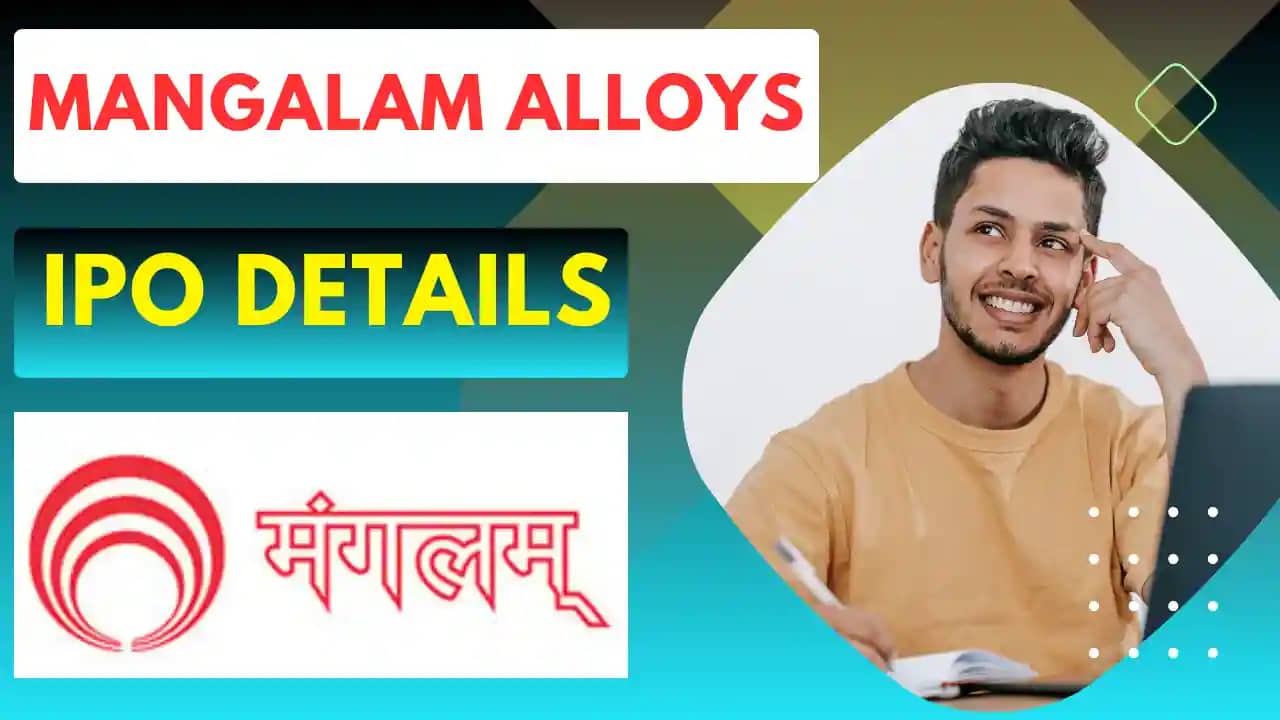 On September 21, 2023, subscriptions for the Mangalam Alloys IPO open, and they conclude on September 25, 2023. On Thursday, September 28, 2023, the Mangalam Alloys IPO's allotment is anticipated to be completed. The proposed listing date for the Mangalam Alloys IPO on the NSE SME is set for Wednesday, October 4, 2023.
The Mangalam Alloys IPO's book-running lead manager is Expert Global Consultants Private Limited, and the issue's registrar is Skyline Financial Services Private Ltd.
Mangalam Alloys Limited IPO Overview
Mangalam Alloys Company Overview

Company Name

Mangalam Alloys Limited

IPO Opening Date

21 September, 2023

IPO Closing Date

25 September, 2023

Face Value

10₹ Per Share

Share Price Range

80₹ Per Share

Lot Size

1600 Shares

GMP

80₹ Per Shares

Issue Type

Fixed Price Issue IPO

Total IPO Issue Size

6,864,000 Shares

Fresh Issue Size

6,126,400 Shares

IPO Listing At

NSE SME

Share Holding Pre Issue

18,559,527

Share Holding Post Issue

24,685,927

Check More IPO's

Click Here
Mangalam Alloys Limited IPO Lot Size
Mangalam Alloys IPO Lot Size

Minimum Retail Applications

1 Lot

Maximum Retail Applications

1 Lot

Minimum HNI Applications

2 Lots

Total Shares In Single Lot

1600 Shares

Amount For Single Lot

128,000 Rupees
Mangalam Alloys Limited IPO Time Table (Tentative)
Mangalam Alloys IPO Time Table Complete Details

IPO Initiation Date

21 September, 2023

IPO Ending Date

25 September, 2023

Basis Of Allotment

28 September, 2023

Initiation Of Refund

29 September, 2023

Shares Credit To Demat Account

03 October, 2023

Date Of Listing

04 October, 2023

Cut Off Time For UPI Mandate Confirmation

(5 PM) 21 September, 2023
Mangalam Alloys Limited IPO Reservation Details
Mangalam Alloys IPO Reservation Overview

Shares Offered To Retailers

50% Of Net Offers

Shares Offered To Others

50% Of Net Offers
Mangalam Alloys Limited Company Financials
Mangalam Alloys Company Financials Information

This Data Is Of

31 March, 2023

Total Revenue

31,127.95 Cr

Assets

32,184.54 Cr

Profit After Tax

-1.54

Reserves And Surplus

4,603.81 Cr
Is Mangalam Alloys Limited IPO Review
Mangalam Alloys Limited, a stainless steel-based product maker, was established in 1988. By melting stainless steel scrap, rolling ingots into stainless steel rounds and flats, and then using a heat treatment annealing furnace and brilliant bar machine, Mangalam Alloys creates stainless steel ingots. Its manufacturing facility, which occupies 40,000 square meters of land, has an installed melting capacity of 25,000 TPA.
What Is The Objective Of Mangalam Alloys Limited IPO Issue?
The company will use the proceeds of the Issue to accomplish the following objectives:-
Needs for working capital

Capital expenditures for company growth, R&D, general corporate purposes.

Covering issue costs.
How To Apply For Mangalam Alloys IPO?
You can submit an application through your broker to Mangalam Alloys Limited by doing the following :-
Log into a Demat account after opening one.

Opt for the Initial Public Offerings (IPO) category.

Pick Open IPOs at This Time.

Go ahead and tap Master Components.

Form completion and submission are required.