The fixed price Master Components IPO is worth Rs 15.46 crores. The offering consists of an offer to sell 4.03 lakh shares for Rs 5.64 crores and a fresh issue of 7.01 lakh shares totaling Rs 9.81 crores. 
The subscription period for the Master Components IPO begins on September 18, 2023, and ends on September 21, 2023. On Tuesday, September 26, 2023, the allotment for the IPO of Master Components is anticipated to be completed. The proposed listing date for the IPO Of Master Components on NSE SME is set as Friday, September 29, 2023.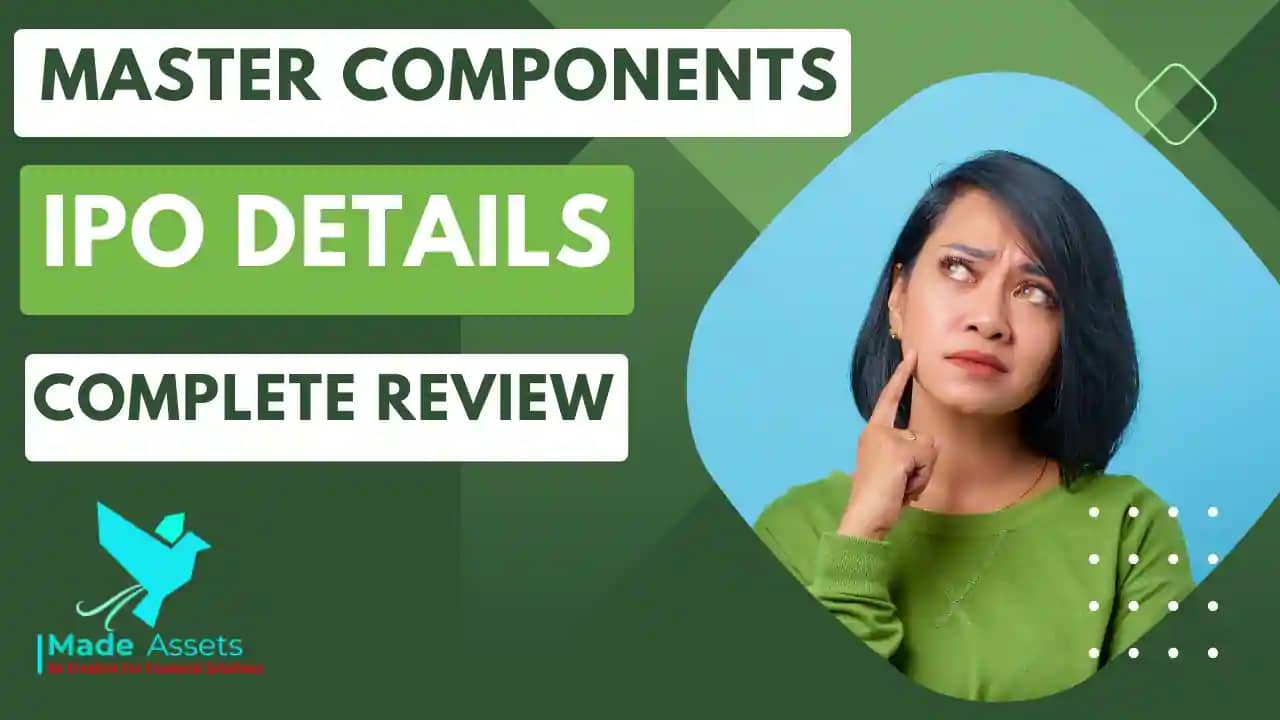 The registrar for the Master Components is Bigshare Services Pvt Ltd, while the book-running lead manager is Aryaman Financial Services Limited. Aryaman Capital Markets is the market maker for the IPO of Master Components.
The price of the Master Components is 140 per share. For applications, a minimum lot size of 1000 Shares is required. Retail investors are required to make investments of at least 140,000. For HNI, 2 lots (2,000 shares), or a minimum investment of $288,000, are the required minimum lot size.
Master Components IPO Overview
Master Components Company Overview

Company Name

Master Components

IPO Opening Date

18 September, 2023

IPO Closing Date

21 September, 2023

Face Value

10 Rupees Per Share

Price

140/-

Lot Size

1000 Shares

Total IPO Issue Size

1,104,000 Shares

Fresh Issue Size

700,800 Shares

IPO Listing At

NSE SME

Share Holding Pre Issue

3,300,000

Share Holding Post Issue

4,000,800

Today's Market Updates

Check Here
Master Components IPO Lot Size
IPO Lot Size

Minimum Retail Applications

1 Lot

Maximum Retail Applications

1 Lot

Minimum HNI Applications

2 Lots

Total Shares In Single Lot

1000

Amount For Single Lot

140,000
Master Components IPO Time Table (Tentative)
Master Components IPO Time Table Complete Details

IPO Initiation Date

18 September, 2023

IPO Ending Date

21 September, 2023

Basis Of Allotment

26 September, 2023

Initiation Of Refund

27 September, 2023

Shares Credit To Demat Account

28 September, 2023

Date Of Listing

29 September, 2023

Cut Off Time For UPI Mandate Confirmation

21 September, 2023 (5:00 PM)
Master Components IPO Reservation Details
IPO Reservation Overview

Shares Offered To Retailers

50 % Of Net Offer

Shares Offered To Others

50 % Of Net Offer
Master Components Company Financials
Master Components Company Financials Information

This Data Is Of

31 March, 2023

Total Revenue

2,090.03

Assets

1,659.17

Profit After Tax

170.54

Net Worth

1,165.31

Reserves And Surplus

835.31

Debt

93.96
Is Master Components IPO Good Or Bad To Buy? (Review)
Master Components Limited, a 1999 incorporation, produces plastic engineering components and subassemblies. The company's main business is molding materials to create innovative components for uses in the electrical, medical, industrial, and automotive industries. If you are interested into this sector then you can do your investments after consulting your financial advisor.
What Is The Objective Of Master Components IPO Issue?
The main objective of master components IPO issue is Finance for Working Capital Needs and General Corporate Goals.
How To Apply For Master Components IPO?
You can apply to Master Components through your broker, follow steps given below :-
Login to your Demat account.

Click on IPO or Initial Public Offers section.

Click On Currently Open IPO's.

Now tap on Master Components.

Complete form and submit form.