MCX Share Price Crashed, After SEBI's Ban On The Development Of A Commodity Derivative Platform
MCX share price Crashed: Following a request from market regulator Securities and Exchange Board of India (SEBI) for Multi Commodity Exchange (MCX) to postpone the launch of its Commodity Derivative Platform (CDP), MCX shares experienced significant selling pressure in the early morning session. Within a few minutes of the stock market opening today, the monopoly stock hit an intraday low of 1,913.25 per share, a drop of close to 9% from Thursday's finish of 2,096.55 levels. The stock opened lower in the opening bell at Rs. 1,970 per share.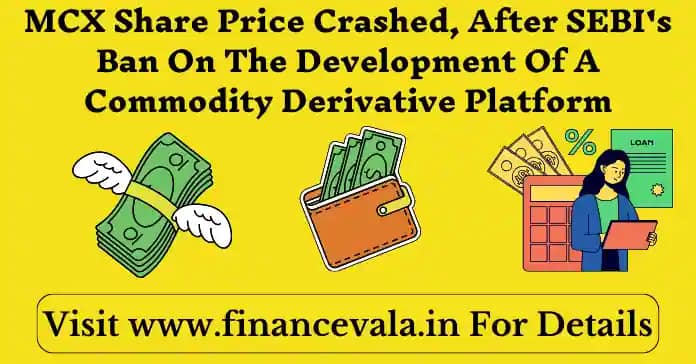 After MCX stated that the Commodity Derivative Platform would begin on October 3rd, 2023, the share price of MCX increased to a new all-time high of 2,114.40 per share on the NSE during Thursday trading. The exchange also announced that a mock session would be held on October 2, 2023.
The market watchdog SEBI, however, urged MCX to postpone the CDP launch on Friday morning. In response to a "technical issue" with the CDP launch, SEBI ordered a stop to MCX's CDP rollout.
SEBI On The MCX CDP launch
The MCX was informed of the SEBI's gag order with the following statement: "Please be informed that SEBI has via email dated September 28, 2023, provided a copy of a letter on September 27, 2023 from Chennai the Financial Markets Authority and Accountability (CFMA) regarding CDP."
This statement was made in accordance with Regulation 30 examined with the third schedule of the SEBI (Listing Obligations and Disclosure Requirements) Regulations, 2015. It should be noted that the petitions for writs filed by CFMA on CDP are currently pending before the Hon.
Madras High Court for resolution. The regulator has stated that since the matter includes technical issues, it will be discussed at the upcoming meeting of the SEBI Technical Advisory Committee. SEBI has in the meantime directed the Exchange to postpone the anticipated Go-Live of CDP.
People Also Love To Read This Article :- Can I Buy PNB Shares Now For Long Term In 2023?
However, MCX insisted that it will keep planning and organizing sample sessions using the serviced platform provided by Tata Consultancy Services (TCS).
This will not be the first time that MCX will use a fresh technological foundation. Previous MCX attempts were hampered by technological difficulties, which led to the extension of their contract with 63 Moons. In June of this year, MCX extended its deal with 63 Moons. By extending their agreement with 63 Moons, MCX has preserved the platform through December 2023. This renewal cost 125 crore every quarter, or 250 crore for the period of July to December 2023.
People Also Love To Read This Article :- What is BO ID in Zerodha?