Plaza Wires IPO Dates, Price, Review, Fundamentals: The book-built IPO for Plaza Wires is worth Rs 71.28 crores. 1.32 crore shares are being issued in its entirety as a new issuance. The pricing range for Plaza Wires IPO is set at 51 to 54 cents per share. 277 Shares are the bare minimum lot size for an application. Retail investors are obliged to make an investment of at least 14,958. For sNII, the minimum lot size investment is 14 lots (3,878 shares), or 209,412; for bNII, the minimum lot size investment is 67 lots (18,559 shares), or 1,002,186.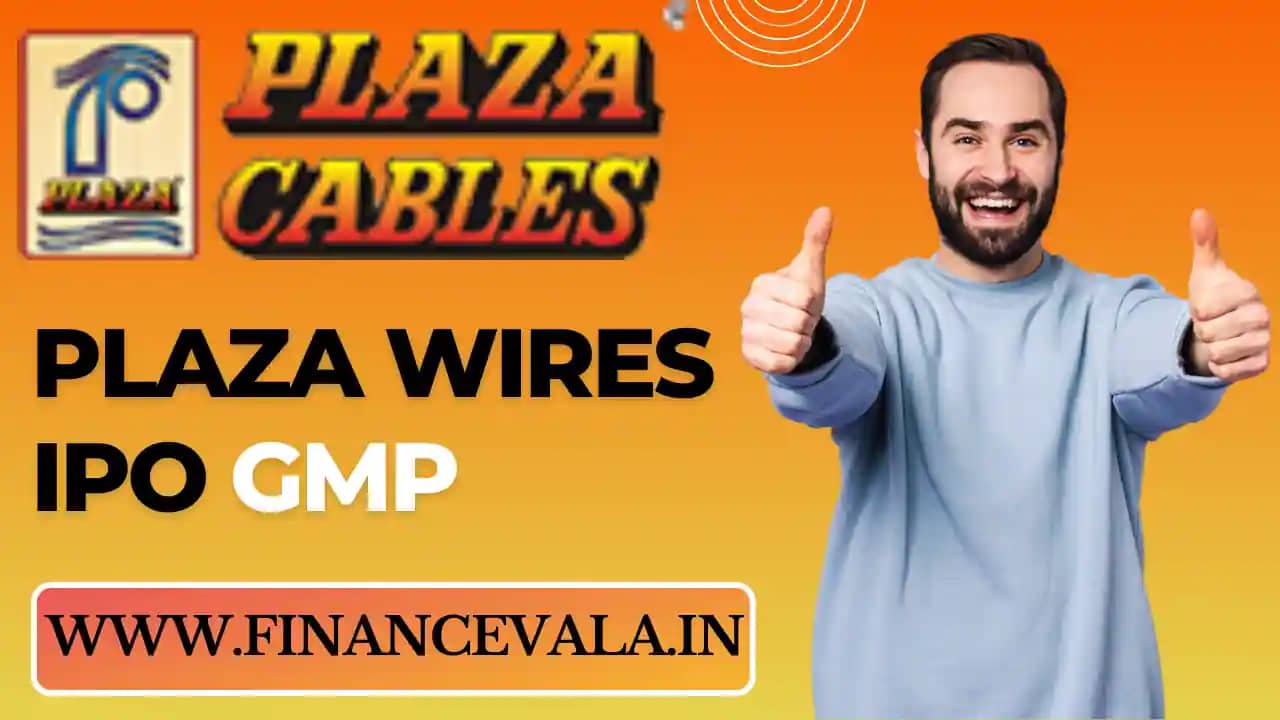 The subscription period for Plaza Wires IPO begins on September 29, 2023, and ends on October 4, 2023. On Monday, October 9, 2023, the Plaza Wires IPO's allotment is anticipated to be completed. The tentative listing date for Plaza Wires' IPO is set for Thursday, October 12, 2023, on the BSE and NSE.
The Plaza Wires IPO's book-running lead manager is Pantomath Capital Advisors Pvt Ltd, while the issue's registrar is Kfin Technologies Limited.
Plaza Wires IPO Overview
Plaza Wires Limited Company Overview

Company Name

Plaza Wires Limited

IPO Opening Date

27 September, 2023

IPO Closing Date

05 October, 2023

Face Value

10₹ Per Share

Share Price Range

51₹ To 54₹

Lot Size

277

GMP

Check Here

Issue Type

Book Built Issue IPO

Total IPO Issue Size

13,200,158 Shares

Fresh Issue Size

13,200,158 Shares

IPO Listing At

NSE, BSE

Share Holding Pre Issue

30,551,920

Share Holding Post Issue

43,752,078

More IPO's

Check Here
Plaza Wires IPO Lot Size
Plaza Wires Limited IPO Lot Size

Minimum Retail Applications

01 Lot

Maximum Retail Applications

13 Lots

Minimum S-HNI Applications

14 Lots

Maximum S-HNI Applications

66 Lots

Minimum B-HNI Applications

67 Lots

Total Shares In Single Lot

277 Shares

Amount For Single Lot

₹14,958
Plaza Wires IPO Time Table (Tentative)
Plaza Wires Limited IPO Time Table Complete Details

IPO Initiation Date

29 September, 2023

IPO Ending Date

05 October, 2023

Basis Of Allotment

09 October, 2023

Initiation Of Refund

10 October, 2023

Shares Credit To Demat Account

11 October, 2023

Date Of Listing

12 October, 2023

Cut Off Time For UPI Mandate Confirmation

05:00 PM, 05 October, 2023
Plaza Wires IPO Reservation Details
Plaza Wires Limited IPO Reservation Overview

Shares Offered To Retailers

Not Less Than 10% Of Net Offer

Shares Offered To HNI

Not Less Than 15% Of Net Offer

Shares Offered To QIB

Not More Than 75% Of Net Offer
Plaza Wires Company Financials
Plaza Wires Limited Company Financials Information

This Data Is Of

31 March, 2023

Total Revenue

182.60 Cr

Assets

112.10 Cr

Profit After Tax

7.51 Cr

Net Worth

53.08 Cr

Reserves And Surplus

22.53 Cr

Debt

39.68 Cr
Plaza Wires Promoters Holding
| | |
| --- | --- |
| Share Holding Pre Issue | 100% |
| Share Holding Post Issue | 69.83% |
Plaza Wires Key Performance Indicators
Plaza Wires Limited Key Performance Indicators

KPI

Values

Market Capitalization (In Cr.)

236.26

P/E (X)

21.95

EPS

2.46

ROE

14.15%

ROCE

15.57%

RoNW

14.16%
What Is The Objective Of Plaza Wires IPO Issue?
Main Objectives for Plaza Wires IPO are :-
Financing the capital outlay for establishing a new production facility to produce house wires, fire-resistant wires and cables, aluminum cables, and solar cables to broaden the product line.

Financing the business's need for working capital.

Overall corporate objectives.
How To Apply For Plaza Wires IPO?
Visit the website of your trader and log in there.

Click the IPOs link under Portfolio.

Click the 'Bid' button in the 'Plaza Wires IPO' row.

Enter the Price, Quantity, and UPI ID.

"Submit" your IPO application.

To authorize the mandate, log into the UPI App (or BHIM or online banking).
Is Plaza Wires IPO Good Or Bad To Buy?
Plaza Wires Limited, a 2006 incorporation, manufactures and sells wires as well as sells and markets LT aluminum cables and fast-moving electrical goods (FMEG) under the "PLAZA CABLES" and "Action Wires" and "PCG" household brands.
The company has partnered with more than 20 service facilities in Uttar Pradesh, Uttarakhand, Jammu & Kashmir, Punjab, Haryana, and Tamil Nadu as part of the after-sales support for electric fans. By introducing micro circuit breakers and distribution boards (DB) in the north and south of India in 2021, Plaza Wires increased the range of products it offered.
As of March 31, 2023, the company had 1249 authorized dealers and distributors, 3 branch offices (one each in Rajasthan, Uttarakhand, and Uttar Pradesh), 1 branch office cum godown (in Maharashtra), 4 warehouses (one each in Uttar Pradesh, Assam, Kerala, and Delhi), and 1 C&F agent (in Punjab).
Navratna Wires, Plaza Wires' predecessor, was incorporated first. House wires, single & multicore round flexible industrial cables, and industrial cables for submersible pumps & motors up to 1.1kv grade are some of its important goods in the wires and cables category. The company also sells other wires and cable products, such as PVC insulated tape, PVC conduit pipe & accessories, LT power control cables, TV dish antenna co-axial cables, telephone & switchboard industrial cables, computer & LAN networking cables, and solar cables, through independent manufacturers.