How To Buy Bitcoin On Etoro: Are you interested in buying Bitcoin, one of the most popular cryptocurrencies, on eToro? We will lead you through the procedure of purchasing Bitcoin on the eToro platform in this step-by-step manual. From creating an account to placing a buy order and managing your investment, we will cover everything you need to know to get started.
How To Buy Bitcoin On Etoro (Understanding Bitcoin And Etoro)
In order to facilitate direct transactions between users and cut out middlemen, Bitcoin is a decentralized digital money.
It has gained significant attention and popularity as a store of value and investment asset.
On the other hand, etoro is a leading social trading and investment platform that enables users to buy and sell various financial assets, including cryptocurrencies like Bitcoin.
Creating An Account On eToro
First, you have to create an account on etoro.

Now click the "Sign Up" button while you are on the eToro website.

Fill in all information, including your name, email address, and password of choice.

Before clicking on the final submission you must read and accept the terms and conditions.

Then click on "Create Account."
Verifying Your Identity
You must authenticate your identity before you can begin trading on eToro. This is done to comply with regulatory requirements and ensure the security of the platform.
Follow the instructions provided by eToro to complete the verification process, which may involve submitting a copy of your identification documents.
People Also Love To Read: How To Sell NFT Art For Free
How To Deposit Funds Into eToro Account
You can add money to your eToro account once it has been validated.
Click on the "Deposit Funds" button and choose your preferred payment method, such as credit card, bank transfer, or e-wallet.

Follow the instructions to complete the deposit process

Ensuring that you have sufficient funds to buy Bitcoin.
Spend some time becoming familiar with the eToro platform. Explore the various features and sections, such as the dashboard, watchlist, news feed, and trading markets. Understanding the platform's layout will help you navigate effortlessly during your Bitcoin buying journey.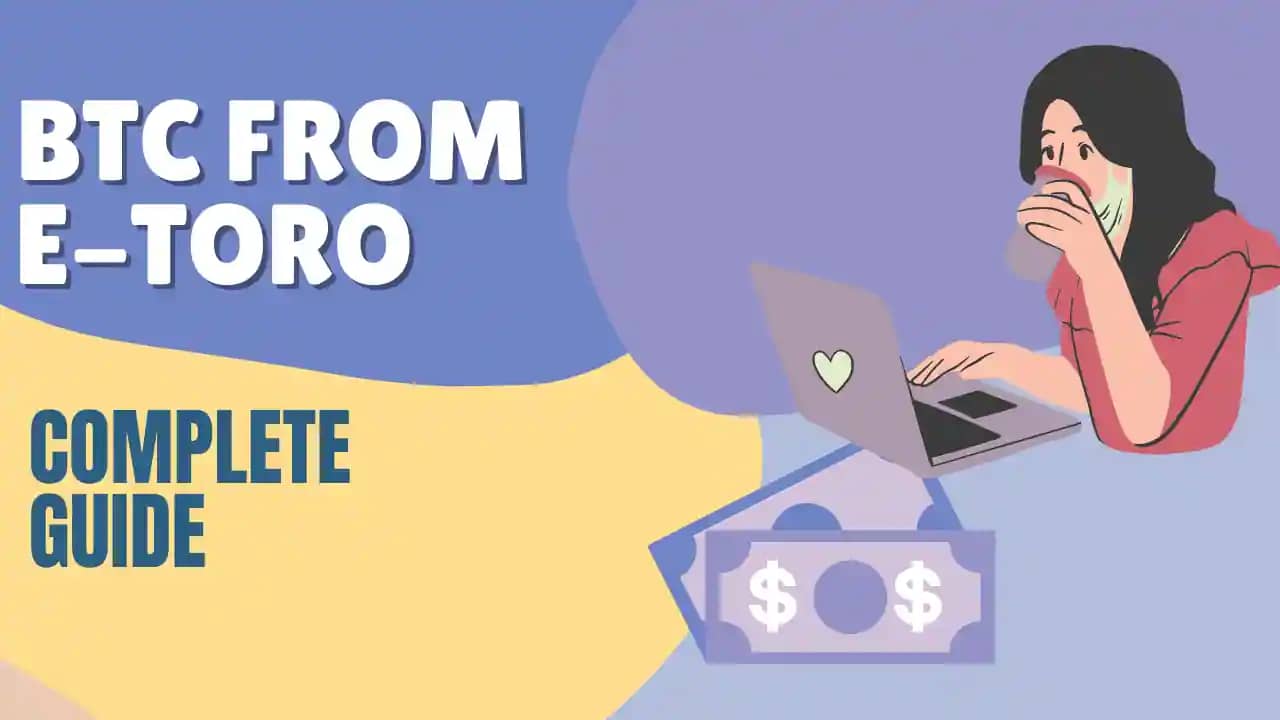 How To Search For Bitcoin On eToro
Use the search bar located at the top of the platform.

Type "Bitcoin" and select it from the search results.

This will take you to the Bitcoin trading page, where you can view relevant information, charts, and trading options.
How To Place A Buy Order For Bitcoin
On the Bitcoin trading page, you will find a "Trade" button.

Click on it to place a buy order for Bitcoin.

Specify how much money you want to invest or how much Bitcoin you want to buy.

Review the order details, including the current Bitcoin price and any applicable fees.

Once you are satisfied with the order details, click on the "Open Trade" button to execute the buy order.
How To Manage Your Bitcoin Investment
After buying Bitcoin on eToro, it's essential to keep track of your investment and make informed decisions. Monitor the price movements of Bitcoin by visiting the Bitcoin trading page regularly. You can also set price alerts to receive notifications when Bitcoin reaches a certain price level.
Additionally, eToro provides various tools and features to help you manage your Bitcoin investment. Consider utilizing features like stop-loss orders or take-profit orders to automate your trading strategy and mitigate risks.
Most People Like Daily Business, Finance And Stock Market Updates: Check Here For Free
How To Withdraw Bitcoin From eToro Account
If you wish to withdraw your Bitcoin from eToro, navigate to the portfolio section of your account.
Locate your Bitcoin balance and click on the "Sell" button.

Specify the amount of Bitcoin you want to sell and review the order details.

Once you are ready, click on the "Close Trade" button to execute the sell order.
After successfully selling your Bitcoin, you can withdraw the funds to your preferred wallet or bank account. Follow the withdrawal instructions provided by eToro, ensuring that you provide accurate details to avoid any delays or complications.
Security Measures To Consider
When buying Bitcoin on eToro or any other platform, it's crucial to prioritize security.
Enable two-factor authentication (2FA) for your eToro account to add an extra layer of protection.

Use a strong and unique password for your eToro account.

Be cautious of phishing attempts and only access eToro through the official website or app.

Install the most recent security updates on your devices and software.

Consider using a hardware wallet to store your Bitcoin for enhanced security.

By taking these precautions, you can minimize the risk of unauthorized access to your eToro account and protect your Bitcoin investment.
Tax Implications Of Bitcoin Investments
It's important to understand the tax implications associated with Bitcoin investments. The tax regulations vary depending on your country of residence. To ensure compliance with your state's tax rules, speak with a tax expert or accountant.
Keep detailed records of your Bitcoin transactions, including purchase prices, sale prices, and dates. This information will be valuable when calculating capital gains or losses for tax reporting purposes.
Conclusion
Investing in Bitcoin can be an exciting and potentially lucrative venture, but it's essential to approach it with caution and do thorough research. Keep track of the latest news and developments in the cryptocurrency space to make informed decisions regarding your Bitcoin investment.
If you're ready to start your Bitcoin investment journey, head over to eToro, create an account, and explore the world of cryptocurrencies.
Frequently Asked Questions
Q.1 Is eToro a reliable platform to buy Bitcoin?
A.1 Yes, eToro is a reputable and trusted platform in the cryptocurrency industry. It is regulated by financial authorities and has a large user base.
Q.2 Can I buy fractions of a Bitcoin on eToro?
A.2 Yes, on eToro, you can buy fractions of a Bitcoin. This allows you to invest even if you don't have enough funds to purchase a whole Bitcoin.
Q.3 Are there any fees for buying Bitcoin on eToro?
A.3 Yes, eToro charges fees for buying and selling Bitcoin. The fees may vary depending on the size of your transaction and other factors. It's advisable to review the fee schedule on eToro's website.
Q.4 Can I use eToro's mobile app to buy Bitcoin?
A.4 Yes, eToro provides a user-friendly mobile app that allows you to buy Bitcoin and manage your investments on the go.
Q.5 Can I sell my Bitcoin on eToro at any time?
A.5 Yes, you have the flexibility to sell your Bitcoin on eToro whenever you choose, as long as the market is open. You can sell your Bitcoin during the trading hours specified by eToro.
Q.6 Is it safe to buy Bitcoin on eToro?
A.6 eToro is a trusted and regulated platform, providing security measures to protect user accounts and funds. However, it's important to take personal security precautions, such as enabling two-factor authentication and using strong passwords.
Q.7 Can I transfer Bitcoin from eToro to an external wallet?
A.7 Currently, eToro allows users to buy and sell Bitcoin but does not support direct transfers to external wallets. You can sell your Bitcoin on eToro and withdraw the funds to your bank account.
Q.8 Does eToro provide customer support for Bitcoin-related queries?
A.8 Yes, eToro offers customer support to address queries and concerns related to Bitcoin and other cryptocurrencies. Through their website or app, you can get in touch with their support staff.
Q.9 Can I buy Bitcoin on eToro using different currencies?
A.9 Yes, eToro supports various fiat currencies, allowing you to buy Bitcoin using your local currency. The available currency options may depend on your country of residence.
Q.10 Does eToro offer additional educational resources on Bitcoin investing?
A.10 Yes, eToro provides educational resources, including articles, tutorials, and webinars, to help users learn more about Bitcoin investing. Take advantage of these resources to enhance your knowledge and understanding.