New Money Rules And Changes: These Are Going Into Effect This Month In September 2023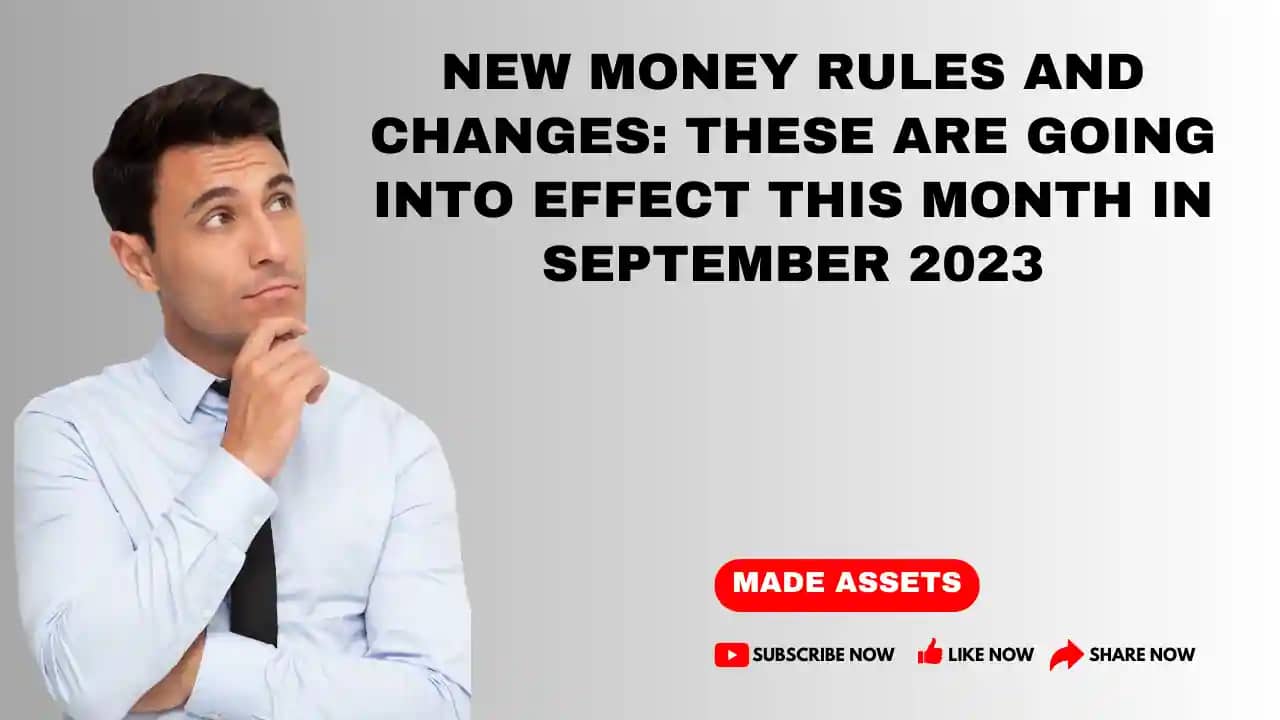 New Money Rules And Changes: September is a crucial month from a financial standpoint. There are a number of financial deadlines this month, and missing them could have a significant impact on your finance. Let's look at the transactions you need to perform this month right now.
Free Update For Aadhaar
The free Aadhaar updating of papers has been extended by the Unique Identification Authority of India (UIDAI) by three months, from June 14 to September 14 of 2023.
The Last Day To Swap Notes Of Rs 2000
Four months were granted by the Reserve Bank of India to deposit or exchange notes worth Rs 2,000. By September 30, 2023, Rs. 2000 banknotes must be redeemed or deposited. Therefore, be careful to deposit your Rs. 2000 notes by September 30 if you plan to. However, before visiting a bank, please review the September holiday schedule.
Linking PAN And Aadhaar For Small Savings Programs
Current users' accounts will be terminated on October 1, 2023, if their Aadhaar numbers are not supplied by September 30, 2023. New customers who wish to make an investment or begin a small savings plan must provide their Aadhaar details within six months of opening their account.
People Also Love To Read This: Banco Products Dividend 2023 : Invest Or Not?
Nomination For Demat
The deadline for holders of trading and demat accounts to submit nominations or choose not to participate in a nomination has been extended by the Securities and Exchange Board of India (SEBI). The new cutoff date is September 30, 2023.
The deadline for senior persons SBI We CareSpecial fixed deposits has been extended to September 30, 2023. The only people who can take advantage of this program offering higher FD interest rates are older seniors.
The bank provides the public a 50 bps premium over the card rate in addition to the existing 50 bps premium. On SBI Wecare, the program offers an interest rate of 7.50%. The program is offered for both new deposits and the renewal of maturing deposits.
Amrit Mahotsav FD375 Day Plan From IDBI
It offers general NRE and NRO interest rates of 7.10%. The bank offers 7.60% to older folks. In contrast, the bank offers a 7.15 percent interest rate to regular people and a 7.65 percent interest rate to senior persons under the 444-day plan.
People Also Love To Read This: Elon Musk Discusses His Conflict With His Trans Daughter Saying That She Thinks Anyone Rich Is Evil