Banco Products Dividend 2023: Leading producer of engine cooling parts, sealing gaskets, and other vital goods is Banco Products, a reputable name in the automotive and industrial industries. With a history spanning more than 50 years, Banco Products has made a name for itself as a trustworthy supplier to aftermarket customers and international original equipment manufacturers (OEMs).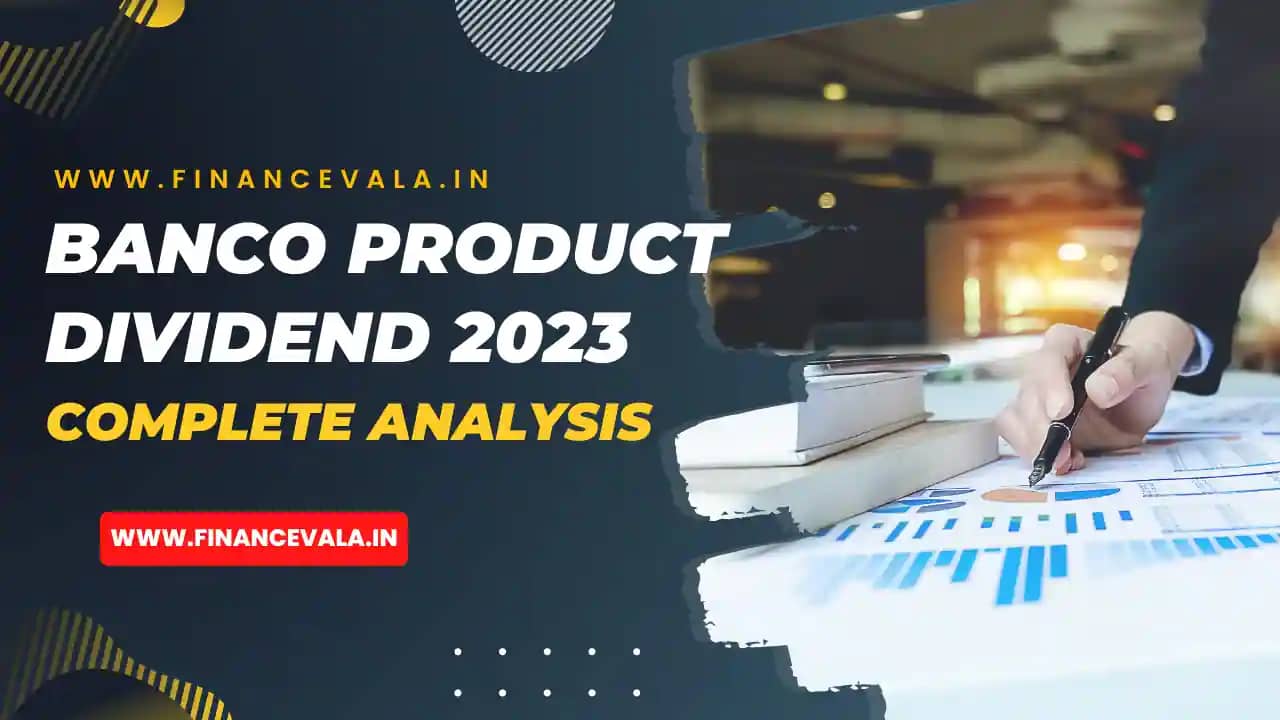 The company's cutting-edge research and cutting-edge manufacturing facilities are clear examples of its unrelenting dedication to innovation, quality, and customer happiness. The contributions made by Banco Products to engine components and thermal management solutions as the automobile industry develops with an emphasis on sustainability and efficiency continue to be of critical importance.
The company's reputation for quality gives it the ability to prosper in a cutthroat environment, and its commitment to technical improvements guarantees that it will continue to play a significant role in determining the direction of the automotive and industrial sectors.
Banco Products Dividend 2023
| | |
| --- | --- |
| Company | Banco Products |
| Sector | Automobile Amd Auto Components |
| Announced Date | 22 May, 2023 |
| Ex-Date | 07 September, 2023 |
| Record Date | – |
| Dividend Type | Final |
| Dividend Percentage | 700 % |
| Dividend Amount | 14.00 |
| More Upcoming Dividends | Check Here |
Banco Products Past Dividend History
| | |
| --- | --- |
| 24 February, 2023 | 8 |
| 06 September, 2022 | 20 |
| 03 September, 2021 | 2 |
| 18 March, 2020 | 20 |
| 07 August, 2019 | 3 |
| 26 February, 2019 | 5 |
Banco Products Company Fundamental
| | |
| --- | --- |
| Market Capitalization | 3665.3 Cr |
| PB Ratio | 3.7 |
| PE Ratio | 13.6 |
| Face Value | 2.00 |
Shares of Banco Products must be thoroughly analyzed in order to determine their investment potential. This includes looking at their financial performance as well as market and industry trends. Banco Products has demonstrated tenacity and inventiveness as a significant participant in the automotive and industrial sectors.
The competitive position, growth plans, and economic considerations of the organization should all be taken into account when making wise investment selections. Global consumer demand, technological advancements, and governmental changes can all have an impact on the automotive sector.
People Like This Also: At 187 Per Share Pyramid Technoplast IPO Listing On The NSE With A Premium Of More Than 12%
Investors are urged to seek the advice of financial professionals, diversify their holdings, and match their investing strategies to their risk appetite and financial objectives. Despite the well-known reputation of Banco Products, prospective investors should consider all available facts before making a choice.
What is the future of Banco Products stock?
The ability of Banco Products stock to manage the changing industrial and automotive landscape will determine its destiny. Banco Products is well-positioned to profit from industry movements towards efficiency and sustainability thanks to its long history and reputation for innovation in engine cooling components and sealing solutions.
However, factors including market trends, technical developments, and general economic conditions have an impact on stock performance. Investors should do extensive research, evaluate the company's financial statistics, and monitor market trends.
Making decisions on the future potential of Banco Products stock in the dynamic automotive and industrial markets requires consulting financial experts and matching investment choices with personal goals and risk tolerance.
People Like This Also: This Is How You Should Get Ready For A Financial Crisis In 2023