At 187 Per Share Pyramid Technoplast IPO Listing On The NSE With A Premium Of More Than 12%
Pyramid Technoplast IPO Listing: Pyramid Technoplast Ltd, a producer of molded items composed of polymers, had a respectable opening day on Dalal Street on Tuesday. Pyramid Technoplast shares were listed on the NSE for a premium of 12.65% to the issue price of 166 per share, at a price of 187 per share.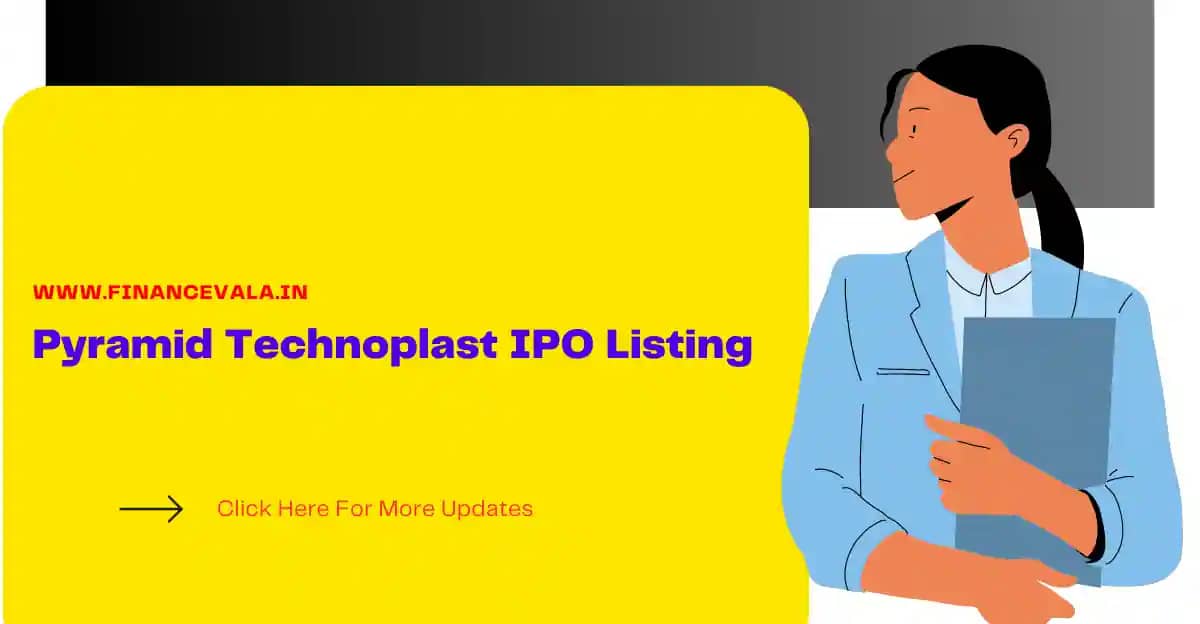 Pyramid Technoplast shares were offered on the BSE for a premium of 11.45%, or 185 per share.
Strong interest was shown in the Pyramid Technoplast IPO from August 18 to August 22. Pyramid Technoplast's initial public offering (IPO) attracted bids for 13.83 crore shares as opposed to the 92.2 lakh shares that were on the offer, resulting in a total subscription rate of 18.29 times.
The subscription rate for the Pyramid Technoplast IPO was 14.72 times for retail investors and 32.24 times for non-institutional investors (NII). The part for Qualified Institutional Buyers (QIB) was reserved 9.94 times.
People Also Love To Read This: Old Coin Change Your Fortunes And Become A Billionaire
The company raised 153.05 crore from the IPO, which was made up of an offer for sale (OFS) of 37.20 lakh shares totaling up to 61.75 crore and a fresh issue of 55 lakh shares for 91.30 crore.
The minimum lot size for the Pyramid Technoplast IPO was 90 shares, and the price range per share was from 151 to 166.
Pyramid Technoplast Ltd had raised 27.55 crore through an anchor book process on August 17 in advance of the IPO.
The Carnelian Structural Shift Fund, the Alchemie Ventures Fund, the Pluris Fund, and the Resonance Opportunities Fund were the four investors who participated in the anchor book offering.
People Also Love To Read This: What Is Circuit In Share Market | Upper & Lower Circuit
In the public offering, the company had set aside a maximum of 30% of the shares for qualified institutional buyers (QIB), a minimum of 20% for non-institutional investors (NII), and a minimum of 50% for retail investors.
The net proceeds from the offer will be used to pay for offer-related expenses as well as the prepayment, repayment, and/or payback, in full or in part, of any outstanding loans that the firm has taken out.
Jaiprakash Agarwal, Pushpa Devi Agarwal, Madhu Agarwal, Bijaykumar Agarwal, Yash Synthetics Private Limited, and Credence Financial Consultancy LLP are the promoters of Pyramid Technoplast.
For the packaging and transportation of chemicals, agrochemicals, and specialty chemicals, the company manufactures Intermediate Bulk Containers (IBC), MS Drums, and polymer-based bulk packaging drums.
People Also Love To Read This: September 2023 Bank Holidays: Check Out This City-By-City List For The 16 Days That Banks Will Be Closed