Sai Skills Kalamandir IPO Details, Review, Prices, Fundamentals: The book-built Sai Silks Kalamandir IPO is worth Rs 1,201.00 crores. The issuance consists of an offer to sell 2.71 crore shares for Rs. 601.00 crores and a fresh issue of 2.7 crore shares totaling Rs. 600.00 crores.
The pricing range for the Sai Silks (Kalamandir) IPO is 210 to 222 rupees per share. 67 Shares are the bare minimum lot size for an application. Retail investors must make an initial investment of at least 14,874. For sNII, the minimum investment lot size is 14 lots (938 shares), or 208,236; for bNII, it is 68 lots (4,556 shares), or 1,011,432; respectively.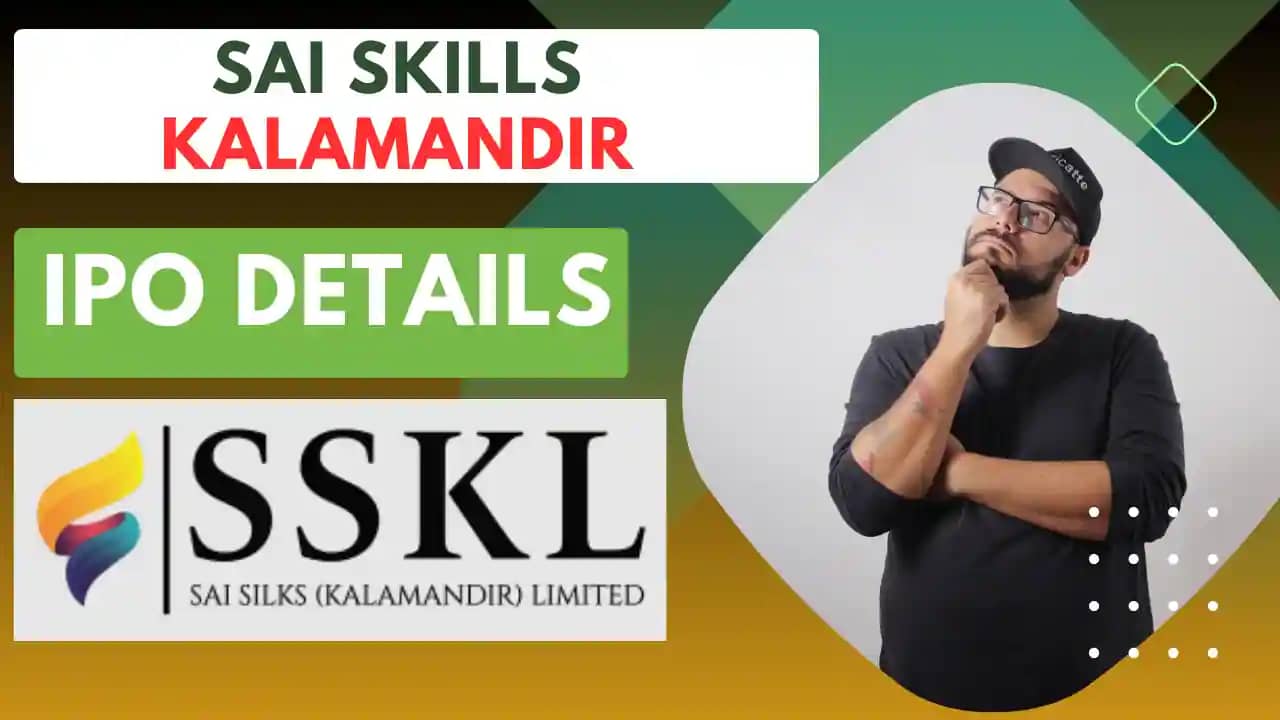 The initial public offering (IPO) for Sai Silks (Kalamandir) begins on September 20, 2023, and ends on September 22, 2023. On Wednesday, September 27, 2023, the Sai Silks (Kalamandir) IPO's allotment is anticipated to be completed. The planned listing date for the Sai Silks (Kalamandir) IPO is set for Wednesday, October 4, 2023 on the BSE and NSE.
The Sai Silks (Kalamandir) IPO's book-running lead managers are Motilal Oswal Investment Advisors Limited, Hdfc Bank Limited, and Nuvama Wealth Management Limited, while the issue's registrar is Bigshare Services Pvt Ltd.
Sai Skills Kalamandir IPO Overview
Sai Skills (Kalamandir) Company Overview

Company Name

Sai Skills (Kalamandir)

IPO Opening Date

20 September, 2023

IPO Closing Date

22 September, 2023

Face Value

2 Rupees Per Share

Share Price Range

210 – 222

Lot Size

67 Shares

Total IPO Issue Size

54,099,027 Shares

Fresh Issue Size

27,027,027 Shares

Issue Type

Book Built Issue IPO

IPO Listing At

NSE, BSE

Share Holding Pre Issue

126,339,085 Shares

Share Holding Post Issue

153,366,112 Shares

More IPO's

Check Here
Sai Skills Kalamandir IPO Lot Size
IPO Lot Size

Minimum Retail Applications

1 Lot

Maximum Retail Applications

13 Lots

Minimum S-HNI Applications

14 Lots

Maximum S-HNI Applications

67 Lots

Minimum B-HNI Application

68 Lots

Total Shares In Single Lot

67 Shares

Amount For Single Lot

14,874 Rupees
Sai Skills Kalamandir IPO Time Table (Tentative)
IPO Time Table Complete Details

IPO Initiation Date

20 September, 2023

IPO Ending Date

22 September, 2023

Basis Of Allotment

27 September, 2023

Initiation Of Refund

29 September, 2023

Shares Credit To Demat Account

03 October, 2023

Date Of Listing

04 October, 2023

Cut Off Time For UPI Mandate Confirmation

22 September, 2023 (5:00 PM)
Sai Skills Kalamandir IPO Reservation Details
IPO Reservation Overview

Shares Offered To Retailers

Not Less Than 35% Of Net Offer

Shares Offered To HNI

Not Less Than 15% Of Net Offer

Shares Offered To QIB

Not More Than 50% Of Net Offer
Sai Skills (Kalamandir) Company Financials
Company Financials Information

This Data Is Of

31 March, 2023

Total Revenue

1,358.92 Cr

Assets

1,220.45 Cr

Profit After Tax

97.59 Cr

Net Worth

397.33 Cr

Reserves And Surplus

373.27 Cr

Debt

345.50 Cr
Is Sai Skills Kalamandir IPO Good Or Bad To Buy? (Review)
The company, with an emphasis on sarees, has emerged as one of the top 10 merchants of ethnic goods following a failed attempt at its first IPO in February 2013.

It has reported solid figures for FY23, showing chances ahead with additional new outlets, after suffering somewhat from COVID impact up until FY22.

It appears that the issue is fully priced based on FY23 profits.

Investors who are knowledgeable may park money for medium- to long-term gains.
What Is The Objective Of Sai Skills Kalamandir IPO Issue?
The following items will be funded in part by the net proceeds from the issue, according to the company:
Repayment or prepayment, in full or in part, of a few loans that the company took out.

supplying capital for the construction of 25 new stores.

financing the business's need for working capital.

financing capital expenses for the construction of two warehouses.

Overall corporate objectives.
How To Apply For Sai Skills Kalamandir IPO?
You can apply to Sai Skills (Kalamandir) through your broker by doing the following:-
Log in after opening a Demat account.

The Initial Public Offerings (IPO) area should be chosen.

Choose IPOs that are currently active.

Now select Master Components.

Complete the form, then send it.