Signatureglobal India IPO: The book-built IPO for SignatureGlobal India Limited is worth Rs 730.00 crores. The issuance consists of a fresh issue of 1.57 billion shares totaling Rs 603 billion and an offer to sell 0.33 billion shares totaling Rs 127 billion.
The price range for the Signatureglobal India IPO is set at 366 to 385 rupees per share. 38 Shares is the bare minimum lot size for an application. Retail investors are required to make an investment of at least 14,630. For sNII, the minimum investment lot size is 14 lots (532 shares), or 204,820; for bNII, the minimum investment lot size is 69 lots (2,622 shares), or 1,009,470.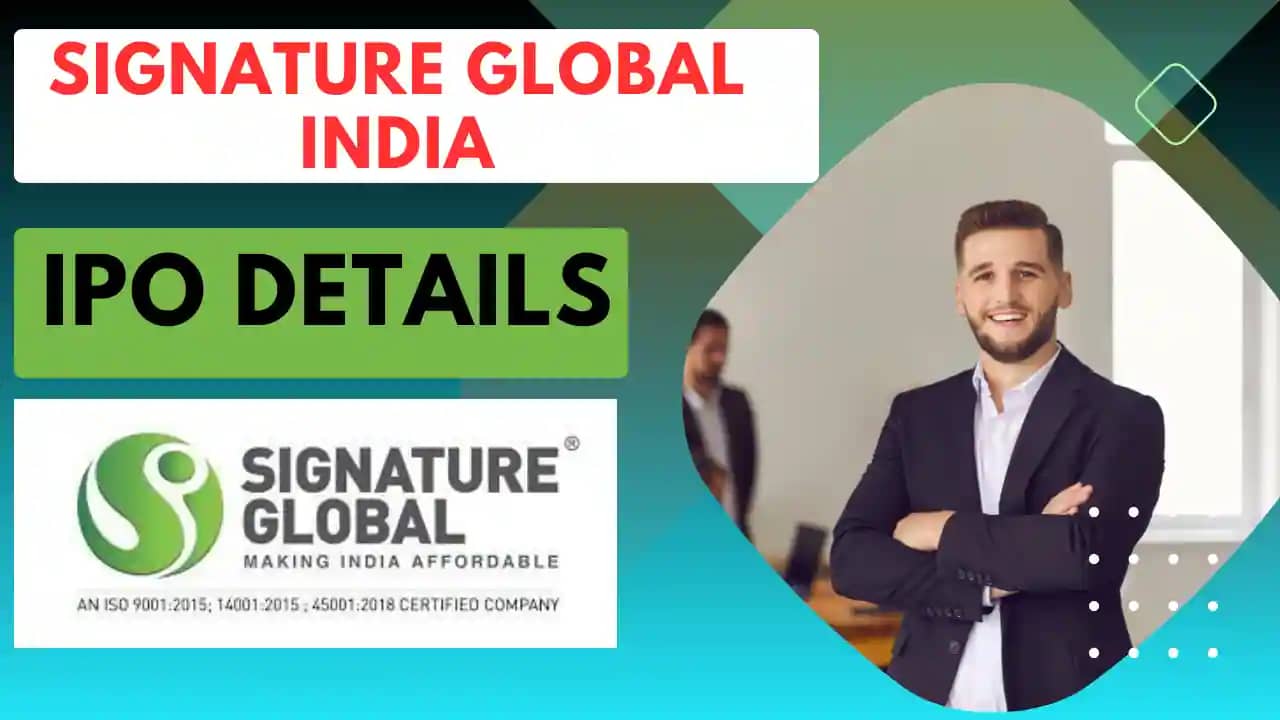 On September 20, 2023, the Signatureglobal India IPO's subscription period began, and it finishes on September 22, 2023. On Wednesday, September 27, 2023, the allocation for the Signatureglobal India IPO is anticipated to be completed. The tentative listing date for the Signatureglobal India IPO is set for Wednesday, October 4, 2023 on the BSE and NSE.
The book-running handling lead managers at the Signatureglobal India IPO are ICICI Securities Limited, Axis Capital Limited, and Kotak Mahindra Capital Company Limited, while Link Intime India Private Ltd is the issue's registrar.
Signatureglobal India IPO Overview
Signatureglobal India Limited Company Overview

Company Name

Signatureglobal India Limited

IPO Opening Date

20 September, 2023

IPO Closing Date

22 September, 2023

Face Value

1₹ Per Share

Share Price Range

366₹ To 385₹

Lot Size

38 Shares

Total IPO Issue Size

18,961,039 Shares

Fresh Issue Size

15,662,338 Shares

IPO Listing At

NSE, BSE

Issue Type

Book Built Issue IPO

Share Holding Pre Issue

113,758,800 Shares

Share Holding Post Issue

129,421,138 Shares

More IPO's

Check Here
Signatureglobal India IPO Lot Size
Signatureglobal India Limited IPO Lot Size

Minimum Retail Applications

1 Lot

Maximum Retail Applications

13 Lot

Minimum S-HNI Applications

14 Lots

Maximum S-HNI Applications

68 Lots

Minimum B-HNI Applications

69 Lots

Total Shares In Single Lot

38 Shares

Amount For Single Lot

14,630 Rs.
Signatureglobal India IPO Time Table (Tentative)
Signatureglobal India Limited IPO Time Table Complete Details

IPO Initiation Date

20 September, 2023

IPO Ending Date

22 September, 2023

Basis Of Allotment

27 September, 2023

Initiation Of Refund

29 September, 2023

Shares Credit To Demat Account

03 October, 2023

Date Of Listing

04 october, 2023

Cut Off Time For UPI Mandate Confirmation

5 PM, 22 September, 2023
Signatureglobal India IPO Reservation Details
Signatureglobal India Limited IPO Reservation Overview

Shares Offered To Retailers

Not More Than 10% Of Net Offer

Shares Offered To HNI

Not More Than 15% Of Net Offer

Shares Offered To QIB

Not Less Than 75% Of Net Offer
Signatureglobal India Company Financials
Company Financials Information

This Data Is Of

31 March, 2023

Total Revenue

1,585.88 Cr

Assets

5,999.13 Cr

Profit After Tax

-63.72 Cr

Net Worth

47.54 Cr

Reserves And Surplus

34.08 Cr

Debt

1,709.75 Cr
Is Signatureglobal India IPO Review?
Even though the company dominates the market for affordable housing in the Delhi-NCR region, its history of losses has caused the IPO to be overpriced and have a negative P/E.
Large projects are now underway at the corporation, and with the sale's realization, things are expected to change soon. However, given its early results, it's a "High Risk/Low Return" wager. Thus, only those who are knowledgeable, have extra cash on hand, or enjoy taking risks should invest a moderate amount of money; everyone else can pass.
What Is The Objective Of Signatureglobal India IPO Issue?
The following objects are among those for which the Company plans to use the Net Proceeds:
Repayment or prepayment, in full or in part, of a few loans that the company took out.

Acquisition of land for corporate needs and inorganic growth.

Infusion of cash into a few of our subsidiaries, including Sternal Buildcon, Signatureglobal Homes, Signature Infrabuild, and Signatureglobal Developers, to pay back or advance some borrowings that the subsidiaries had taken out.
How To Apply For Signatureglobal India IPO?
By using your broker, you can apply to Signatureglobal India by following the instructions below:-
Open your Demat account and log in.

Select the Initial Public Offerings (IPO) section.

Select IPOs That Are Open Right Now.

Tap Master Components now.

Fill out the form, then submit it.