4% Is Lost On Wednesday By HDFC Bank Stock – Can Weak Run Go On?
4% Is Lost On Wednesday By HDFC Bank Stock – Can Weak Run Go On?: Shares of the bank closed 3.85% lower on the NSE at Rs. 1,566 a share and 4% lower on the BSE at Rs. 1,563.90.
The largest private lender in the nation, HDFC Bank Share, saw its shares fall 4% at the close of trading on Wednesday, making it the top performer on both the Nifty 50 and Sensex indices.
Shares of the bank closed 3.85% lower on the NSE at Rs. 1,566 a share and 4% lower on the BSE at Rs. 1,563.90.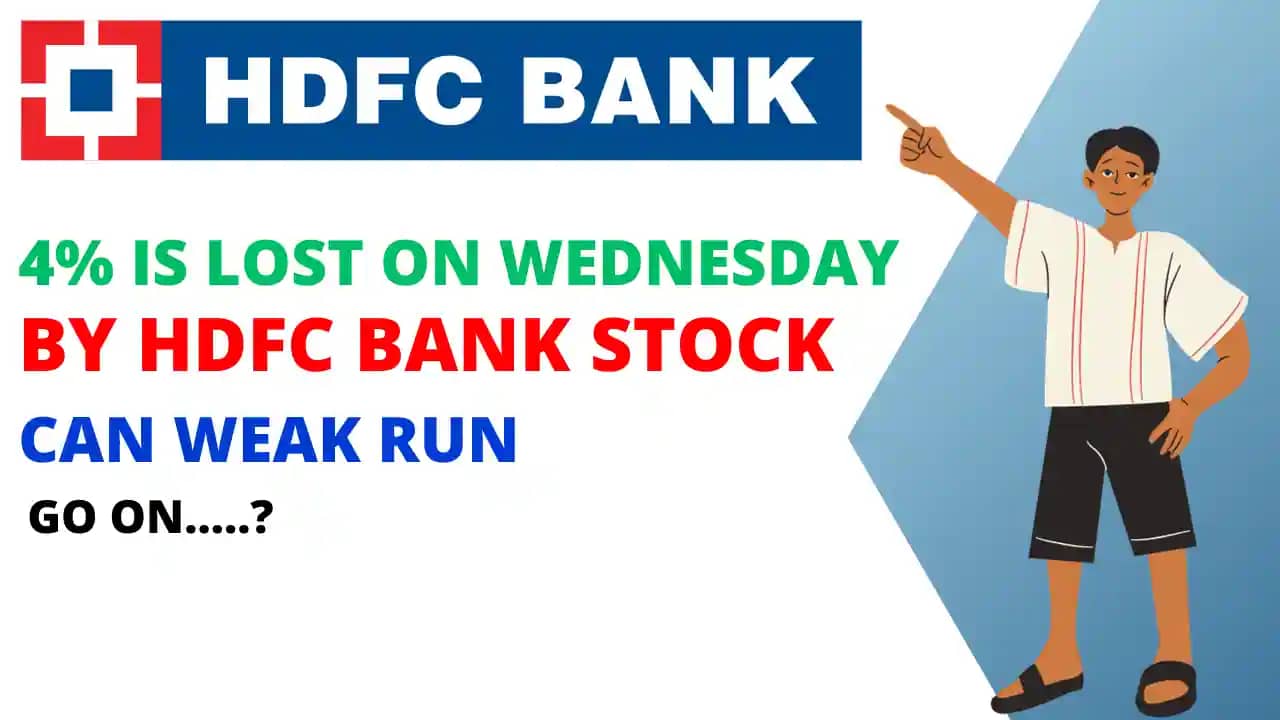 Reasons For HDFC Bank Stock Declined
Analyst's worries about the bank's just-completed merger with HDFC Ltd and its possibility of influence on important financial ratios led to this precipitous decline.

In a recent conference with analysts, HDFC Bank talked about the immediate difficulties it expects to face following its merger with HDFC Ltd.

One of the issues raised was the potential for a net interest margin (NIM) contraction of 25 basis points (bps).

Due to variables such as the extra cash reserve ratio (CRR) and surplus liquidity—HDFC had amassed a sizeable liquidity buffer before the merger—and other factors, the NIM is likely to decrease.

Global brokerage house Nomura decreased the target price for HDFC Bank's stock from Rs 1,970 to Rs 1,800 in reaction to these worries and the conclusions of the meeting. They also downgraded the stock's rating from 'buy' to 'neutral'.

Nomura listed a number of unfavorable revelations from the analyst meeting, such as net worth adjustments that affected book value per share (BVPS), anticipated NIM decreases, higher cost-to-income ratios as a result of accounting changes, and a potential rise in non-performing assets (NPAs) in HDFC's business loan book.

In the meantime, HDFC's price objective was decreased by Antique Stock Broking from Rs 2,025 to Rs 1,925. The downgrading resulted in a notable drop in HDFC Bank's stock, with shares plummeting by around 4%.
People Like This Article Also: 2 Midcaps With The Highest Profits On The NSE
Will The Downward Streak At HDFC Bank Continue?
Ever since HDFC Bank and HDFC merged, its stock has underperformed. It should be mentioned that the bank has lost 3.85% of its value so far this year as a result of today's decrease. In the meantime, the bank's stock has dropped more than 4% during the previous five sessions.
Analysts believe that given the worries raised by brokerages, HDFC Bank Share may experience a period of consolidation. According to analysts cited in a CNBC-TV18 report, the stock is expected to find initial support in the Rs 1,530–Rs 1,500 region.
Analysts anticipate that despite a potential near-term fall, the price will remain between Rs 1,500 and Rs 1,700. A decline below Rs. 1,500, though, might trigger another downturn.
People Like This Article Also: Hi-Green Carbon Limited IPO Details, Price, Dates, GMP
Disclaimer: The views, opinions, advice, and recommendations provided by the experts/brokers in this article are their own, and they do not necessarily represent those of the India Today Group. Before making any kind of investments or trading decisions, it is your own responsibility to speak with a licensed broker or financial advisor.