Hinduja Global Upcoming Dividend 2023: Hinduja Global Solutions (HGS) is a market pioneer for customer experience and business process management solutions. HGS offers a full range of services, including customer assistance, technologically enhanced solutions, digital marketing, and more, with a presence on various continents.
The company's customer-centric strategy is supported by innovation, as it makes use of cutting-edge technology like automation and artificial intelligence to improve operational efficiency and provide clients with superior service.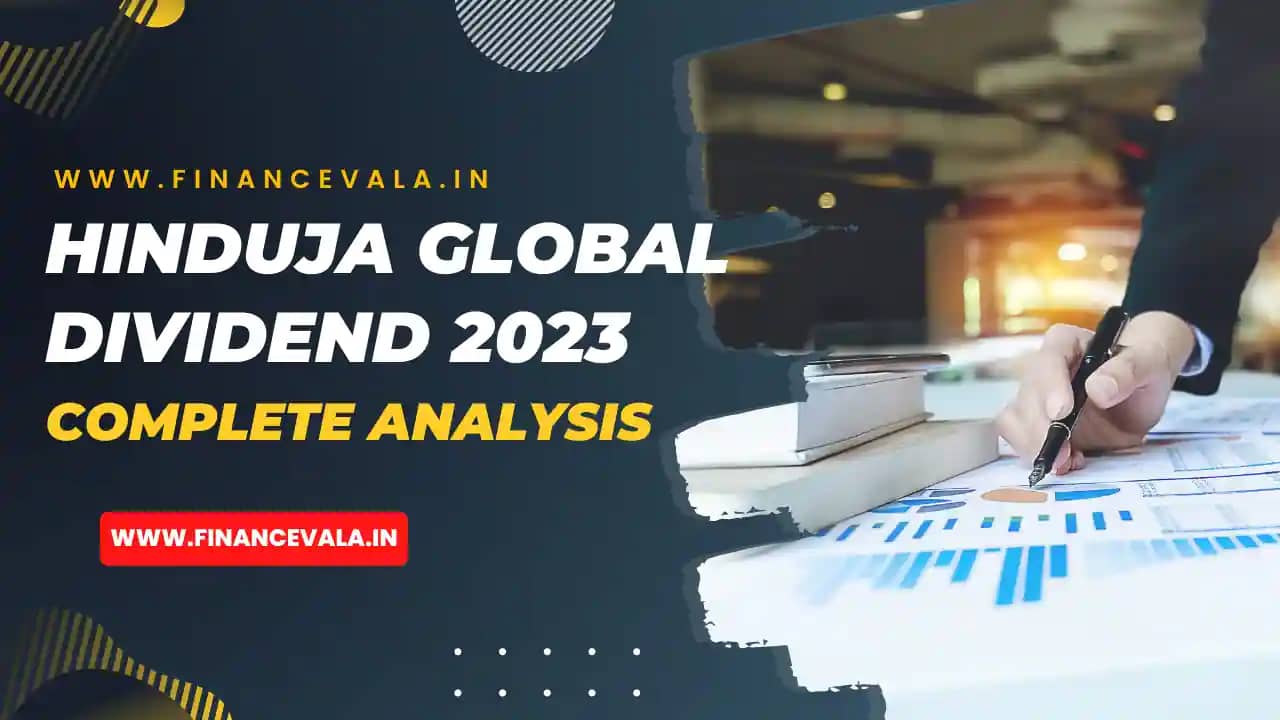 HGS has made a name for itself as a reliable partner for several well-known brands in a variety of sectors, including healthcare, telecommunications, retail, and financial services. The organization's position as an industry leader is a result of its dedication to developing long-lasting partnerships, its commitment to social responsibility, and its emphasis on employee involvement.
Through its comprehensive approach to business process management, HGS continues to redefine client experiences in a commercial environment that is continually changing.
Hinduja Global Upcoming Dividend 2023
| | |
| --- | --- |
| Company | Hinduja Global |
| Sector | Software And Services |
| Announced Date | 29 May, 2023 |
| Ex-Date | 13 September, 2023 |
| Record Date | – |
| Dividend Type | Final |
| Dividend Percentage | 25 % |
| Dividend Amount | 2.50 |
| More Upcoming Dividends | Check Here |
Hinduja Global Past Dividend History
| | |
| --- | --- |
| 06 March, 2023 | 2.50 |
| 07 December, 2022 | 5 |
| 23 September, 2022 | 25 |
| 24 August, 2022 | 5 |
| 22 February, 2022 | 28 |
| 17 January, 2022 | 150 |
Hinduja Global Company Fundamental
| | |
| --- | --- |
| Market Capitalization | 4716.5 Cr |
| PB Ratio | 0.5 |
| PE Ratio | 14.3 |
| Face Value | 10.00 |
Considerations for evaluating the investment potential of Hinduja Global Solutions (HGS) shares include its financial performance, market conditions, and industry trends. HGS has established itself as a world authority on customer experience and business process management solutions.
People Also Love To Read This: What is BO ID in Zerodha?
On detailed research, including the company's competitive position, growth strategies, and economic considerations, wise investment selections should be founded. The business process outsourcing industry is susceptible to changes in technology, the state of the world economy, and customer demand.
Investors are urged to seek the advice of financial professionals, diversify their holdings, and match their investing strategies to their risk appetite and financial objectives. Although HGS has a strong reputation and is well-known in the industry, prospective investors should consider all available data before making a choice.
What is the future of Hinduja Global stock?
As it continues to develop and adjust to the shifting market for business process management and customer experience solutions, Hinduja Global Solutions' (HGS) stock has a bright future. HGS is well-positioned to profit from the rising demand for effective and client-focused services because to its extensive global presence and dedication to harnessing emerging technology.
The business potential for long-term success is strengthened by its focus on operational excellence, employee engagement, and developing long-term client connections.
Industry dependence on outsourcing and digital solutions is growing, thus HGS's experience in offering specialized services across multiple sectors is still valuable. However, market dynamics, advancing technology, and changes in the economy all have an impact on stock performance. Investors should do thorough research, keep an eye on financial indicators, and follow market trends.
People Also Love To Read This: Is Day Trading Gambling? Complete Finance Guide 2023
Making educated decisions regarding the future potential of HGS stock in the dynamic business solutions market requires consulting financial experts and matching investment selections with personal goals and risk tolerance.