SEBI Bans 65 Firms For Two Years From Market Access
SEBI Bans 65 Firms For Two Years From Market Access: The market watchdog Securities and Exchange Board of India (SEBI) has banned 65 businesses from the market for two years and ordered 27 entities to return allegedly illegal gains totaling Rs40.23 crore that were obtained through manipulating the share price of Yamini Investment.
A total of 102 organizations linked to Madhur Buildcon Pvt Ltd, one of Yamini Investment's promoters, were found by SEBI to have traded in the stock and given some of the company's shareholders exit at a premium price. Between September 2013 and September 2015, SEBI noticed odd changes in the price and volume of Yamini Investment and looked into the scrip to see if there had been any price manipulation.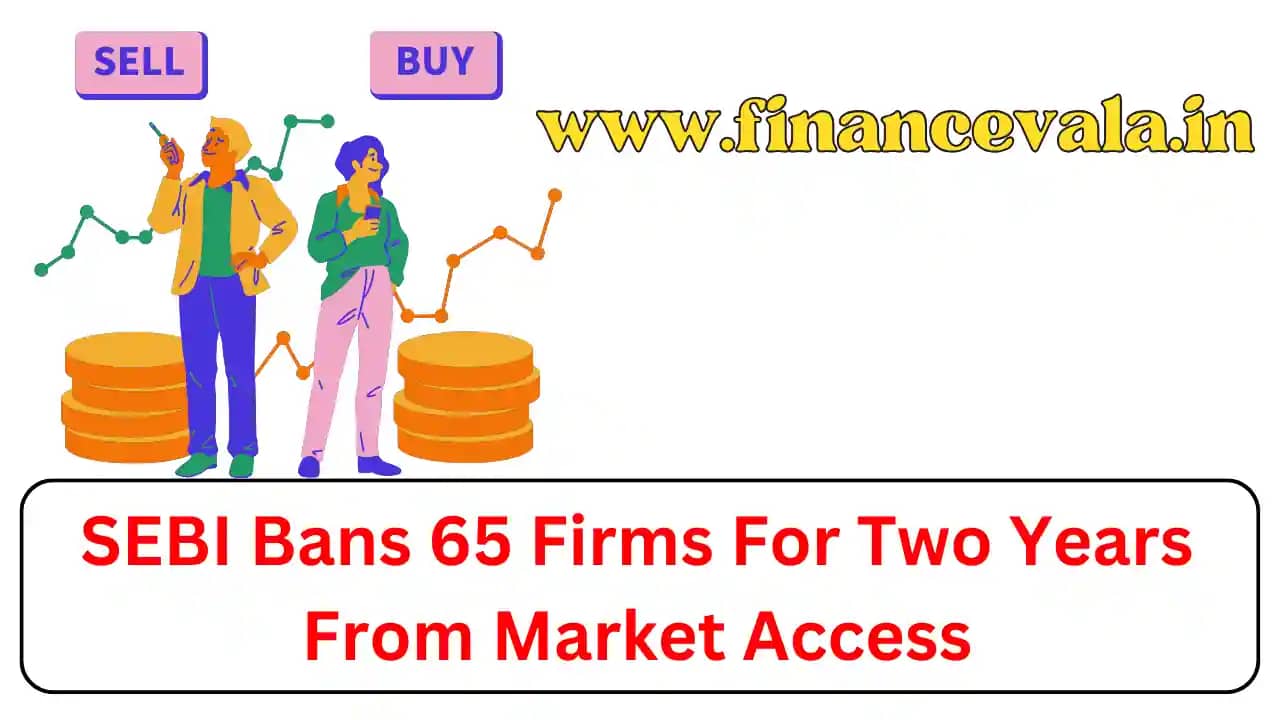 Following a thorough examination of the scrip's BSE trading activity during the time of the probe, SEBI discovered that some entities dealing in the scrip were allegedly linked via know-your-customer (KYC), off-market transfers, fund transfers, and shared directors.
Initially, two groups of interconnected entities were found: the Madhur group, which contained 88 entities, and the PCB group, which contained 14 entities.
The 102 entities are collectively referred to as the Madhur group in SEBI's show cause notice (SCN), which claimed that 14 entities (noticees 1 through 14) had manipulated the price of the scrip during the inquiry period.
People Also Love To Read This: Gujrat Gas Dividend : Latest Update 2023
According to the market regulator's inquiry, 102 entities belonging to the Madhur group together purchased 57,884 shares at this time, which is 93.03% of the market volume, and sold 33,629 shares, which is 50.46% of the market volume.
"During the course of the investigation, the 102 linked entities of the Madhur group transacted in the stock, allowing some corporate shareholders to sell their shares at a profit. The Bombay High Court (HC) had approved a plan of merger, and these shareholders had acquired shares of Yamini Investment as a result of a preferential allocation made as part of that plan.
27 Firms Were Ordered By SEBI To Disgorge Illegal Earnings Totaling Rs. 40.23 Crore, Including :-
Gopal Bansal (HUF)

Rajeev Goel (HUF)

Harvinder Singh (HUF)

K Ashok Kumar (HUF)

Sanjeev Goel

Nidhi Khandelwal

Rajni Goel

Rahul Goel

Ashok Sneha Bohra

Satvinder Kaur

Hans Raj Agarwal

Harvinder Singh

Gurupreet Sangla

Amit Khandelwal

Dropdi Devi

Renu Agarwal

Seema Sang

la

Maya Devi Khandelwal

Ankit Khandelwal

Kuldeep Kaur

Shubhra Khandelwal

Gyan Prakash Rai

Manju Rai

Vimala Bohra

Nisha Sharma

Ashokkumar Aashish Bohra
People Also Love To Read This: Upcoming Changes To PSUs 2023
65 Firms Were Banned From Markets For Two Years By The Market Regulator, Including :-
Anax and Fidelo Power and Infrastructure Ltd (Fidelo)

Bij Buildcon India Pvt Ltd

Maheshwari Financial Services Pvt Ltd

Optimal Farms Pvt Ltd

Autolite Agencies Pvt Ltd

Toor Finance Company Ltd

Nicky Marmo Ltd

Stellar Capital Services Ltd

Premlal Roy

Aries Commercials

Moonlight Udyog

Shri Ram Traders

Ram Yadav

Chandra Prakash Balkisanji Laddha

Sanshipt Broking And Consultancy Pvt Ltd

Anshu Kataruka

Hetab S Kangad (HUF)

Surakshit Merchants Pvt Ltd

Goldensight Commotrade Pvt Ltd

Surabhi Dealmark Pvt Ltd

Vindyavasini Agency Pvt Ltd

Mkr Trading Pvt Ltd

Rajputana Digital Mediapvt Ltd

Fortunate Infra Developers Pvt Ltd

Linkup Vintrade Pvt Ltd

Omkara Dealer Pvt Ltd

Krushana Infra Property Pvt Ltd

Overall Logistics Pvt Ltd

Dace Exim Pvt Ltd

Imagine Logistics

Goodpoint Commodeal Pvt Ltd

Natural Investment Management Pvt Ltd

Dhirga Marketing Pvt Ltd

Ecospace Infotech Pvt Ltd

Veepra Real Estate Consultants Pvt Ltd

Etricks Enterprises Pvt Ltd

Everblink Agency Pvt Ltd

Veenit Builders Pvt Ltd

Richi Consultants Pvt Ltd

Vighnaharta Infra Developers Pvt Ltd

Headfirst Vinimay Pvt Ltd
People Also Love To Read This: How To Invest In Web3 : Complete Guide