Subaru President Will Soon Decide Where To Locate An EV Manufacturing Facility In The United States
Subaru president will soon decide where to locate an EV manufacturing facility in the United States: According to Subaru's president, the automaker is nearing a decision on where to locate the electric vehicle plant that will be a significant component of its electrification strategy.
Atsushi Osaki stated in a group interview that while the company's current facility in Indiana is a top contender, the site is being considered depending on the acquisition of onboard batteries and incentives from state governments. We're getting close to the point when we need to decide," he remarked.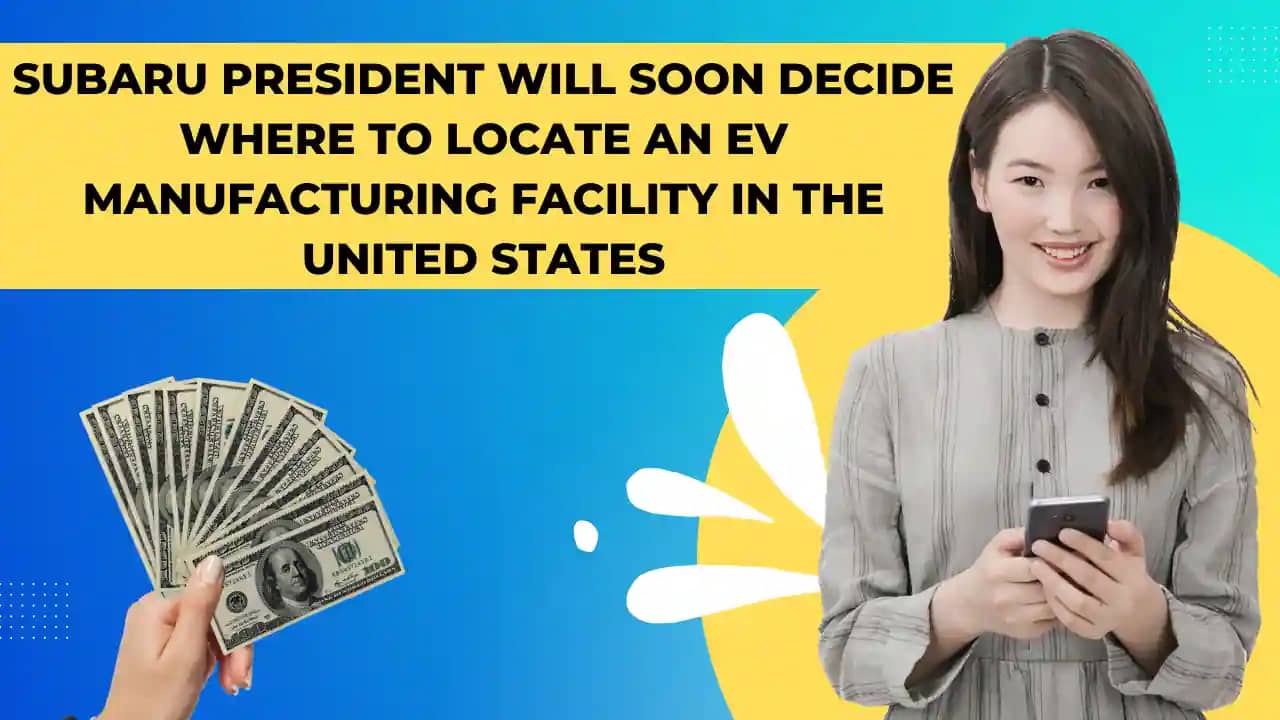 The U.S., where electric car sales are rising, particularly in California, has Subaru's EV production starting as early as 2027. Subaru predicted that by 2030, battery electric vehicles will sell 600,000 units worldwide, or 50% of all EVs sold worldwide.
While EV adoption rates in the US vary from state to state, according to Osaki, "there is no question that the trend continues to shift in the direction of EVs."
The company plans to create a flexible production system because it is hard to forecast if EV sales in the U.S. will expand consistently or hit a plateau.
People Also Love To Read This: How To Become Mutual Fund Distributor In 2023
The purchase of batteries is a crucial issue. Candidates for suppliers include Panasonic Holdings, which is in discussions to provide batteries, and Toyota, which owns a share in Subaru. The decision about whether to purchase the batteries through Toyota or on our own will be made "after we choose whether we will acquire the batteries from Toyota or our own route," Osaki stated.
Because of the significant investment and job creation that would ensue, U.S. states are fighting to recruit EV and battery manufacturing by giving tax credits, subsidies, and other incentives. When Osaki visited Japan earlier this month, he met with Indiana Governor Eric Holcomb, where Subaru's facility is located, and "received various proposals," including one for EV manufacture.
He added that he is looking at various manufacturing sites, but that Indiana, a state that has been a partner of Subaru for approximately 35 years, is "naturally a prime candidate" for an EV production base.
People Also Love To Read This: At The 2023 ET Leadership Awards EROS Group Was Named-Most Trusted Developer
Due to the expensive price of batteries and other considerations, there are worries that automakers' profit margins would decrease with the introduction of EVs. Subaru anticipates an operational profit margin of 7.1% for this financial year through March, which is slightly higher than Nissan and Honda but lower than Toyota, the largest automaker in the world.
Company had stated that it aimed for "an industry-leading operating margin" of 8% in its medium-term management plan, which was unveiled in May 2021, but the strategy unveiled in August did not include a specific number.
According to Tatsuo Yoshida, a Bloomberg Intelligence analyst, Subaru may be able to maintain short-term margins in the high single digits as output rebounds due to increasing unit sales, stabilized material costs, and a weak yen. However, Yoshida warned that "medium-term profit may come under pressure" because Subaru intends to invest about 1.5 trillion ($10.2 billion) on electrification by 2030.
People Also Love To Read This: Master Components IPO Details, Price, Date, GMP, Review