Months Ahead Of Schedule, Uday Kotak Resigns As CEO Of Kotak Mahindra Bank: Surprise Action
Uday Kotak Resigns As CEO Of Kotak Mahindra Bank: Dipak Gupta, Shanti Ekambaram, and K.V.S. Manian are the three leading candidates vying to succeed Uday Kotak in January.
Kotak Mahindra Bank's founder, Uday Kotak, has already started the process of selecting a new MD and CEO by switching over immediately to a non-executive director position.
The most senior professional, Dipak Gupta, has been appointed interim MD & CEO by the board for a three-month period ending in December of this year. The MD&CEO position Kotak held was set to expire in December.
Gupta assumed the position of Joint Managing Director in January 2012. For more than a decade, he has served as No 2. He has worked for Kotak Bank for about 2.5 decades of his over three decades-long career in the financial industry.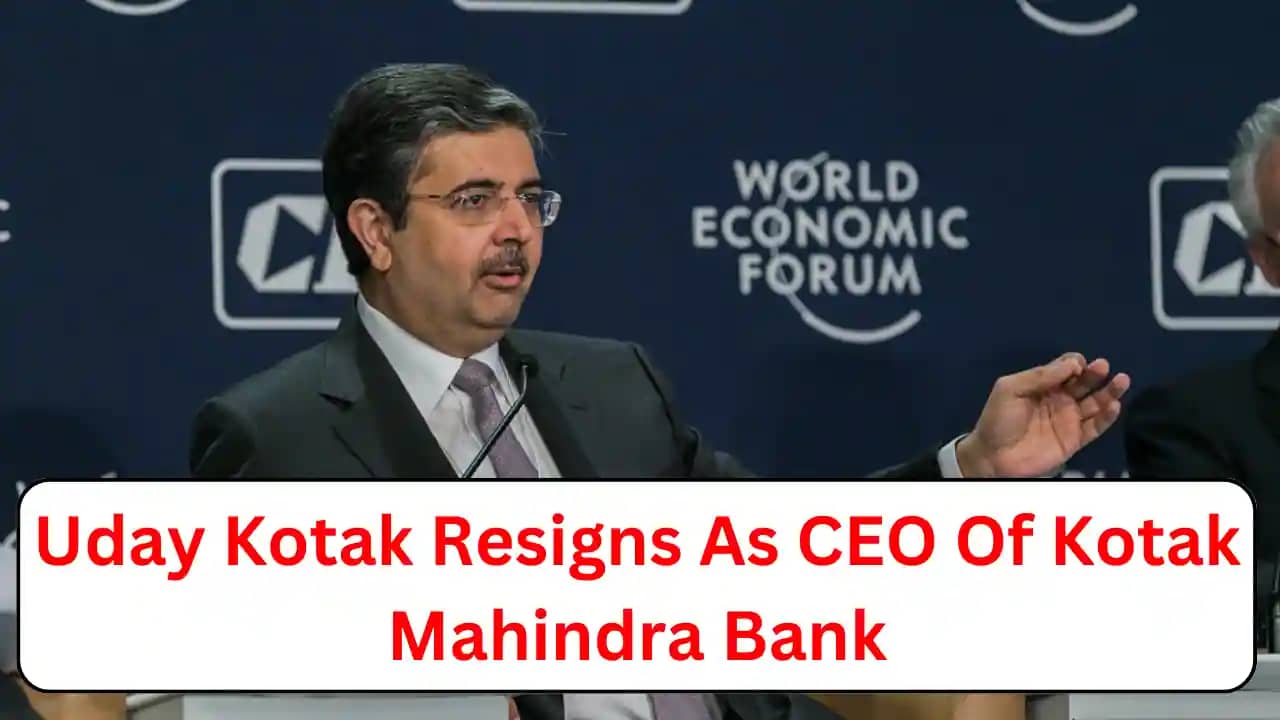 The bank has already teamed up with Egon Zehnder, a global search consultancy, to help find the best applicant for the position. Two full-time directors, K.V.S. Manian and Shianti Ekambaram, are also vying for the top position. According to sources, it is quite improbable that the Kotak group will choose an outsider for the top position.
For a five-year period, Uday Kotak will serve as the non-executive director in charge. In actuality, Kotak will serve on the board and oversee the bank.
Since August 1, 2002, Kotak has served as the MD&CEO of Kotak Mahindra Bank, formerly known as Kotak Mahindra Finance. He has played a crucial role in the expansion of the bank over the past four decades.
The Kotak Group has increased its presence across a number of financial services under his direction, including stock brokerage, investment banking, auto loans, life insurance, and mutual funds.
Related : Elon Musk Discusses His Conflict With His Trans Daughter Saying That She Thinks Anyone Rich Is Evil
I see my job as a non-executive board of directors member and a strategic stakeholder with a long-term perspective of cultivating a world-class institution, Kotak wrote in a letter to shareholders last month. A person with a 26% stake in the business, disproportionate family assets in one stock, and an emotional attachment to realizing his aim of making India proud is unique in today's banking industry.
The main difficulty for Kotak Bank would be keeping its core personnel following the transition.
Senior executives left ICICI Bank, the second-largest private bank in the nation, after Chanda Kochhar took over as its leader. Shikha Sharma, another candidate, relocated to Axis Bank. Goldman Sachs hired Sonjoy Chatterjee.
Renuka Ramnath, a former employee of ICICI Ventures, quit to start her own private equity company, successfully starting a brand-new company from scratch. Despite staying for a while, V Vaidyanathan eventually departed to start his own business. He is currently the MD & CEO of IDFC First Bank.
Related Article : Future Prognosis for Lab-Grown Diamonds until 2023
Paresh Sukthankar, who was anticipated to succeed Aditya Puri at HDFC Bank, abruptly announced his resignation in August 2018. He was already the bank's deputy managing director at the time. In the end, it was decided that internal candidate Sashidhar Jagdishan was the best choice for the top job.
Romesh Sobti, the man credited with turning around IndusInd Bank, was to be succeeded by Suman Kathpalia, who oversaw consumer banking. Senior executives, however, also left this mid-sized private bank.
Jay Kotak, the son of Uday Kotak, is anticipated to pursue a conventional career route. Vice President of the bank's digital platform Kotak811, Jay Kotak holds this position. Uday's son Jay would pursue the typical professional path, according to Gupta, who confirmed this in an interview following the bank's June quarter profits that family members are not banks' natural heirs.
People Also Love To Read This Article: New GST Rules For Business 2023 Started From Today As Per New GST Regulations