The founder Of Jet Airways Used Money From A Bank Loan To Purchase Property Abroad
The founder Of Jet Airways Used Money From A Bank Loan To Purchase Property Abroad: The ED claimed that Jet Airways founder Naresh Goyal, who was recently detained in connection with a Rs 538 crore bank fraud case, used money from bank loans to buy property in Dubai and the UK, among other foreign locations.
Naresh Goyal, the founder of Jet Airways, who was detained on Friday, is accused of conspiring with other suspects to defraud Canara Bank by using the bank's subsidiaries to siphon off loan cash and fabricate costs, according to the Enforcement Directorate (ED). Using the money, he also purchased a number of homes abroad, including Dubai and the UK, according to the investigation agency.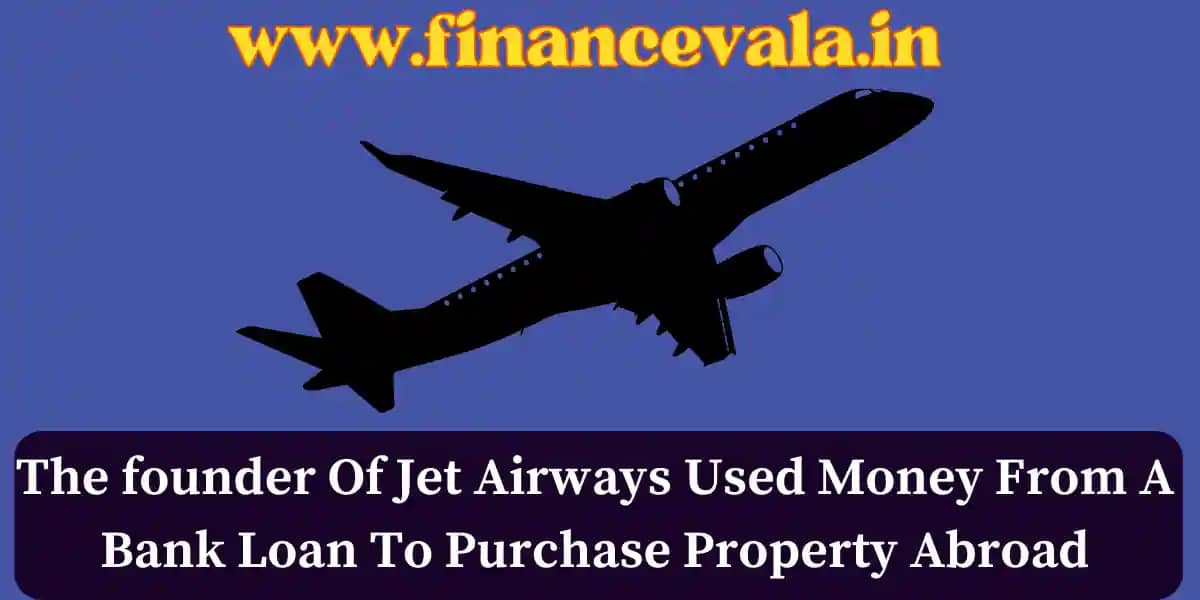 According to the ED, Naresh Goyal fraudulently diverted loan funds, as shown by Ernst & Young's Forensic Audit Reports, resulting in a loss to the bank of Rs 538.62 crore.
Naresh Goyal had misrepresented charges of Rs 1,000 crore as professional and consulting costs, according to ED investigators. These costs included the promoters' foreign accounts as well as personal costs for the promoter and his family members that were not accounted for.
Under the guise of General Selling Agents (GSA) commission, Jet Airways (India) Ltd (JIL) also transferred money to foreign organizations with addresses in Dubai, Ireland, and other tax haven nations, such as the British Virgin Islands. These payments were made to related parties and the organizations linked to Naresh Goyal and his associates.
People Also Love To Read This: Best Indicator For Option Trading : High Profit Indicators
According to the investigation agency, JIL's entire exposure to the consortium led by the State Bank of India was close to Rs 6,000 crore.
Agreements were signed with a number of General Selling Agents (GSAs) whose directors included relatives of Naresh and Anita Goyal. A major amount of the more than Rs 3,000 crore paid as GSA expenses went to Jet Air LLC, Jet Air UK Limited, Jetair Pvt. Ltd., and Jetair INC. 15% of Dubai's Jetair LLC is owned by Naresh Goyal.
The Chartered Accountants and Consultants, to whom JIL had made significant payments over the years and who had been flagged in the forensic audit reports, were among the places searched by ED officials on July 19.
People Also Love To Read This: August 2023 Saw A Two-Year Low In Ethereum NFT Trading Volume
Naresh Goyal was summoned twice by the investigation agency and provided with a substantial amount of evidence, but he did not show up.
Amit Agarwal, the former CFO of Jet Airways, also accused Jennifer D'Silva, Naresh Goyal's secretary, of authorizing payments to dubious consulting and professional businesses without seeking approval from the airline's finance division.
Amounts of Rs 9.46 crore were given to Naresh Goyal's wife Anita, daughter Namrata, and son Nivaan from the accounts of JIL in 2011–2012 and 2018–2019 for a variety of activities, according to an analysis of the Ernst & Young audit report.
When Naresh Goyal was the chairman of Jet Airways, the company made advances worth Rs 2,547.83 crore to JIL's subsidiary Jet Lite Limited (JLL), and later wrote off the money by creating a provision.
People Also Love To Read This: New Money Rules And Changes: These Are Going Into Effect This Month In September 2023
On August 17 and August 30, Goyal received two summonses from the ED. They required him to present records pertaining to the acquisition and use of significant money obtained through borrowing.
According to the investigation agency, Naresh Goyal evaded these summonses carelessly and on dubious reasons, showing a flagrant disregard for the judicial system.
ED officers issued a fresh summons and recorded his statement at his Delhi home on September 1 after growing frustrated with his non-compliant attitude. The investigation agency emphasized that enough time had passed since their initial request as they reaffirmed their demand for the papers.
Naresh Goyal obstructed the investigation's progress by giving evasive replies when asked about his ongoing absence from ED officials during earlier summonses.
People Also Love To Read This: How To Win At Mega Millions And Powerball? How To Choose Numbers