Canada Finance Minister Supports The Central Bank Independence Following A Rate Statement
Canada Finance Minister Supports The Central Bank: After her remarks applauding the Bank of Canada's decision not to raise its benchmark interest rate sparked doubts to the contrary, Canadian Finance Minister Chrystia Freeland supported the central bank's independence on Wednesday.
The Bank of Canada kept interest rates constant at 5%, a 22-year high, in a move that was largely anticipated. Freeland soon after released a statement in which she referred to the central bank's decision as "welcome relief for Canadians."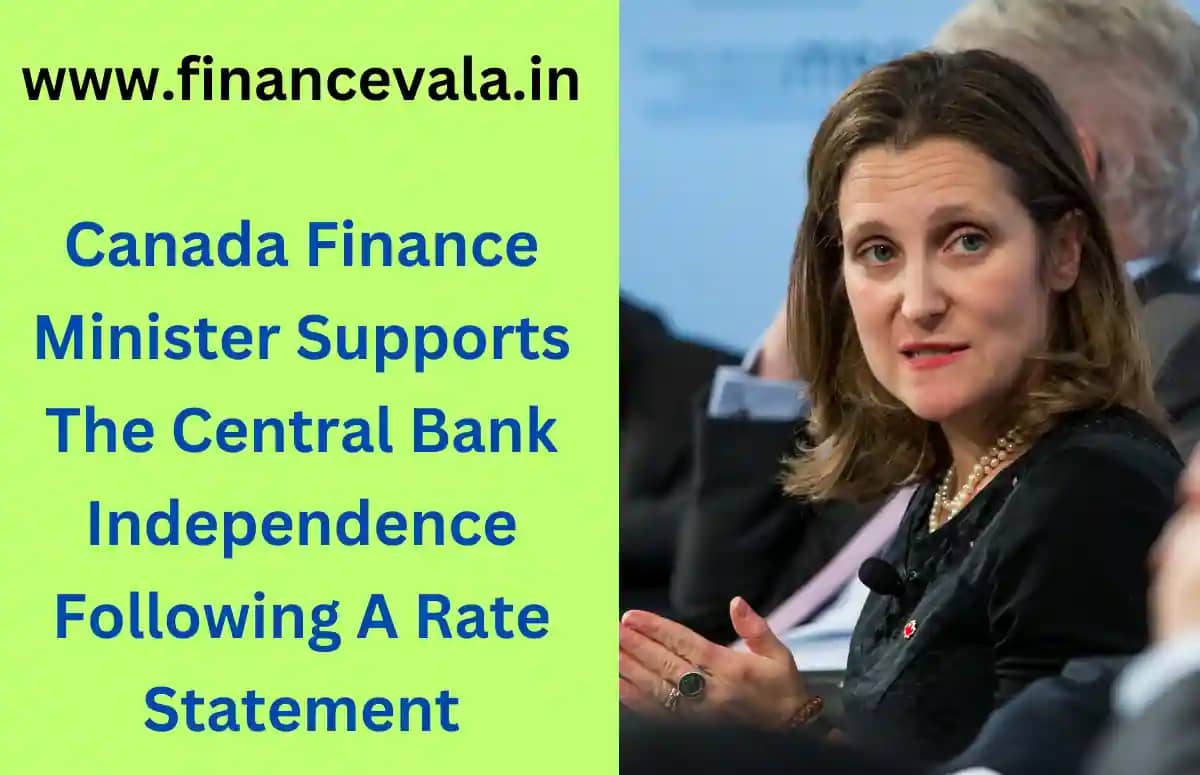 In order to ensure that interest rates can decrease as soon as feasible, Freeland continued, "my first goal is to use all of the resources at my disposal and to collaborate with partners at various levels of government across Canada.
Ministers of the Canadian government seldom ever publicly support or denounce monetary policy. The Bank of Canada implements its monetary policy decisions independently of the federal government, like many other industrialized economies.
Freeland's Wednesday remarks, according to an economist from one of Canada's top six banks, were "unhelpful."
The minister's final sentence about working "to ensure that rates of interest can come down as soon as possible" is not within the purview of a finance minister, according to Derek Holt, a financial analyst with the Bank of Nova Scotia.
People Also Love To Read This: Eywa Pharma Manufacturing Facility Is Acquired By Biocon
According to him, the remarks "create an appearance that political interference concerns influencing" the BoC's judgments.
Freeland emphasized in June that she valued the independence of the central bank when it hiked rates for the first time following a four-month break, and she reiterated that point in a press conference later that day.
Later on Wednesday, Freeland explained that her remark was intended to express her empathy for the financial suffering caused by rising interest rates for Canadians.
People Also Love To Read This: A Scam 2003 Story: What Is It? Learn Everything About Abdul Karim Telgi
Many heavily indebted Canadians have suffered as a result of the BoC's record-breaking rate of interest rate increases, and opposition leader of the Conservative Party Pierre Poilievre has attributed the cost-of-living crisis to the Liberal Prime Minister Justin Trudeau's policies.
Freeland's remarks come just days after the premiers of British Columbia and Ontario, the country's most populous province, wrote to central bank Governor Tiff Macklem pleading with him to halt interest rate increases in order to relieve Canadians' suffering.
People Also Love To Read This: Months Ahead Of Schedule, Uday Kotak Resigns As CEO Of Kotak Mahindra Bank: Surprise Action